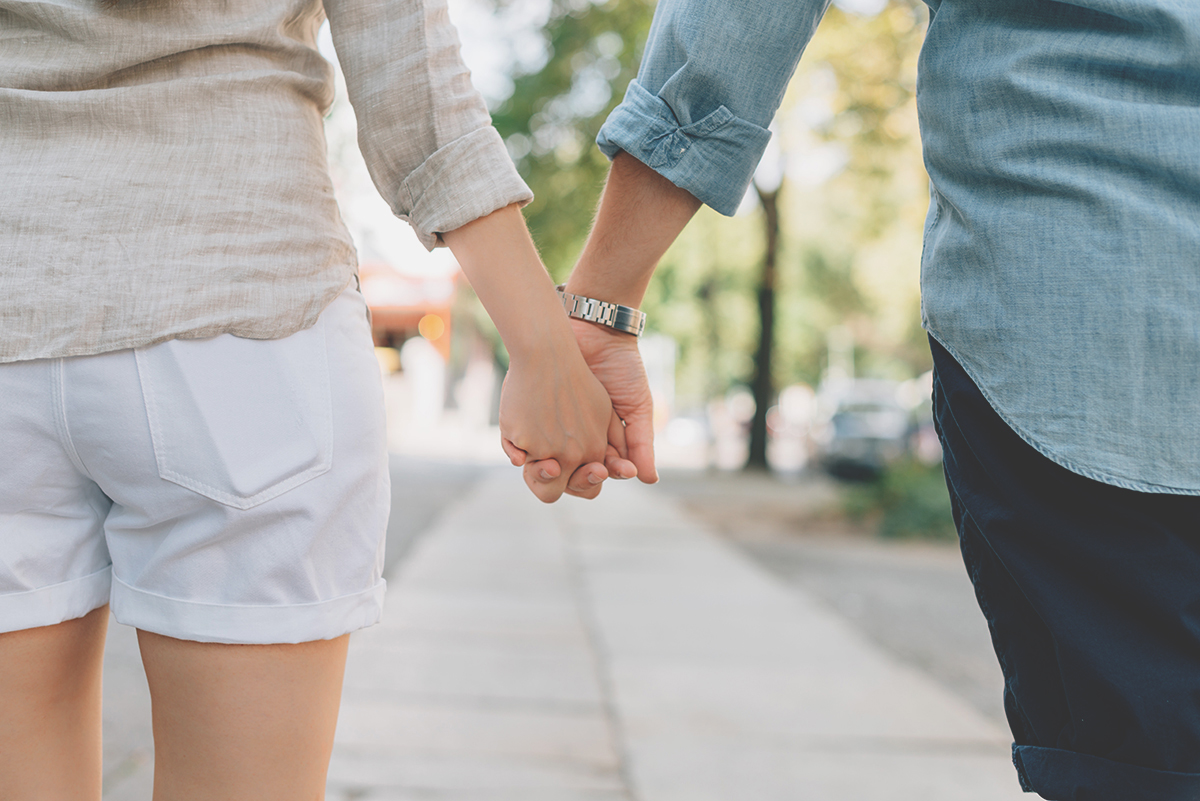 Vancouver has one of the biggest and most celebrated Pride Weeks in North America. The weeklong event, highlight of the summer, draws out the masses for the event. The premise is simple: celebrate love and acceptance, and it's clear that resonates with many. Events include a charity run, picnic in the park, Legacy Awards, the Davie Street Party, numerous parties and restaurant events, and of course, the iconic Pride parade, watched by over 650,000 people. The overall success of a social event like this relies heavily on social and digital marketing, and some other events around the world are showing us how to do it right.
Love Is Welcome Here
Video: Airbnb
Although in Canada we've had the benefit of marriage equality for everyone, there are over 75 countries around the world where being homosexual is still illegal. This was a concern that led the popular travelling company, AirBnB to try and make a difference. When two women were planning their honeymoon, they brought up concerns to an AirBnB executive that they feared for their safety in some countries around the world, and the dreading feeling of having to "pretend." AirBnb is a company that believes anyone should feel safe no matter where they go, and being one of the sponsors of San Francisco Pride, created a video with the hashtag #LoveIsWelcomeHere. The video, which has 112,000 views, shows different types of couples – Trans, gay, lesbian – sharing their experiences of travelling as an LGBTQ+ couple. The short film is moving and poignant, and so powerful because it features real people like you and I, wanting nothing more than to travel the world with the one that they love.
#LoveThisLife
Video: Adweek
For the number one bestselling Greek yogurt in America, Chobani, it's all about simplicity. Maybe that's why they found such success with their multi-media, multi-platform #LoveThisLife campaign. The campaign consisted of several videos, almost effortlessly simple, showcasing the all-natural, healthy ingredients that go into the yogurt. One of these videos caused a little more buzz than others, which shows a woman enjoying yogurt in bed. At the end, it is revealed the partner lying next to her in bed is also a woman. Brand executives said that the idea behind supporting LGBT community is "nothing new here." This campaign took a different approach as it focused on their customer and not their ingredients, and in doing so seamlessly aligned their brand, values and customer together – natural, effortless, and easy.
#empowerLGBTQyouth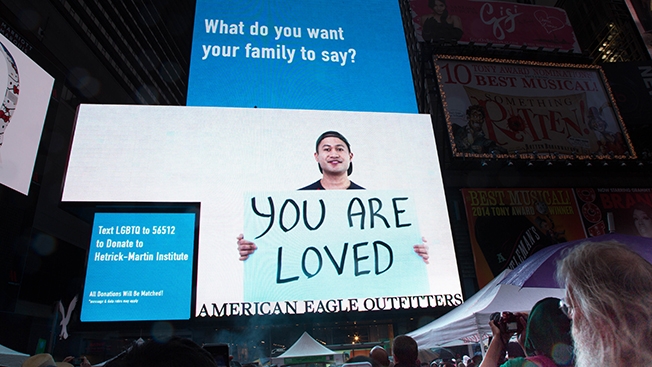 Image: Adweek
At-risk gay youth advocacy group, Hetrick Martin Institute, celebrated Gay Pride Month in a big, big way. How big? About Times-Square-New-York-City big. The group rented out a four level video screen to promote self-acceptance and empowerment to the LGBTQ+ community. In the motion video, gay teens can be seen holding encouraging messages of hope and love to others in their community. The video was produced in a Q & A format, with questions such as "What do you want society to say?" and teens holding signs that said things such as "you are beautiful." The campaign came about after HMI learned that 40% of homeless youth identify as LGBTQ+, 82% report being verbally abused at school, and that suicide is the 2nd cause of death among LGBT youth aged 10-24. The in-house campaign created the hashtag #empowerLGBTQyouth and the impact was as big (if not bigger!) than the video in Times Square.
Forbidden Love
Video: Adweek
Ad agency McGann and Zhang showed us that a campaign doesn't need to be all bells and whistles as long as it has meaning. The agency created a video showcasing the "forbidden love" that LGBTQ+ individuals have to endure. The one minute video shows two young girls running through a field, laughing, playing and feeling free, until one of their fathers comes looking for them. This causes an abrupt ending to their happiness, even if it only was for a moment. The caption then appears, "Shout for those that couldn't." The campaign idea sprouted from the concept that oppression and discrimination often grow and fester in silence, which is why it's so important to make noise. The video, which was created for NYC pride month, quickly racked up 80,000+ views and was the epitome of the impact meaningful marketing can have.
#LoveIsLove
Video: Youtube – Absolute
Following the Supreme Court announcement in the U.S. legalizing gay marriage, many companies began using LGBT activism in their mainstream marketing campaigns. Using it as a great way to create corporate values and connect with a broader audience, aspects of LGBT culture have been seen in marketing, branding, slogans and everything in between. One of these companies was the vodka brand Absolut. Coming up to Pride events in the summer, they released a rainbow coloured bottle which was a marketing success. A brand and company that so many people were familiar with being so openly supportive of the rights of others hit home with many of its customers. To keep the momentum going, they met with a female couple and organized for their surprise proposal. With the assistance of Absolut, one half of the couple planned an elaborate beach proposal with family and friends – all recorded and made into a beautiful video with the hashtag #LoveIsLove, which now has over 906,000 views on YouTube.
# LoveTravels

Video: Marriott
One of the best aspects of using social and digital marketing campaigns for activism is that it allows companies to take part in a larger conversation about social change. Such was the case with Marriot hotels that made a firm decision to bringing a louder voice to their commitment to the LGBT community. They created the hashtag #LoveTravels and formed a social media campaign that showed high profile celebrities, as well as real couples in Marriot properties around the world. They also encouraged user submissions and created a microsite where these images where featured. Celebrities included the first female in the WNBA to come out as well as a transgendered supermodel. The campaign was a success, amassing 1200 photo submissions, 73,000 photo likes and 2.1 million impressions. This campaign served as an example of combining intuitive marketing with a cause that helps others.
In the age of technology and digital communication, it can seem as if meaningful relationships and conversations can be few and far between. It should come as no surprise, that campaigns founded on connections with others love seem to have the widest and longest impact. After taking a look at these 6 powerful Pride-related campaigns, it's clear that thoughtful marketing coupled with love and meaning will always give us something to celebrate.
—
Header Image: Unsplash
(Visited 215 times, 1 visits today)
Want to learn more?
If you want to learn more about specific key elements of an effective marketing plan, read our 50+ page booklet on How to Write A Strategic Marketing Plan That Yields ROI – complete with explanations
(Visited 414 times, 1 visits today)