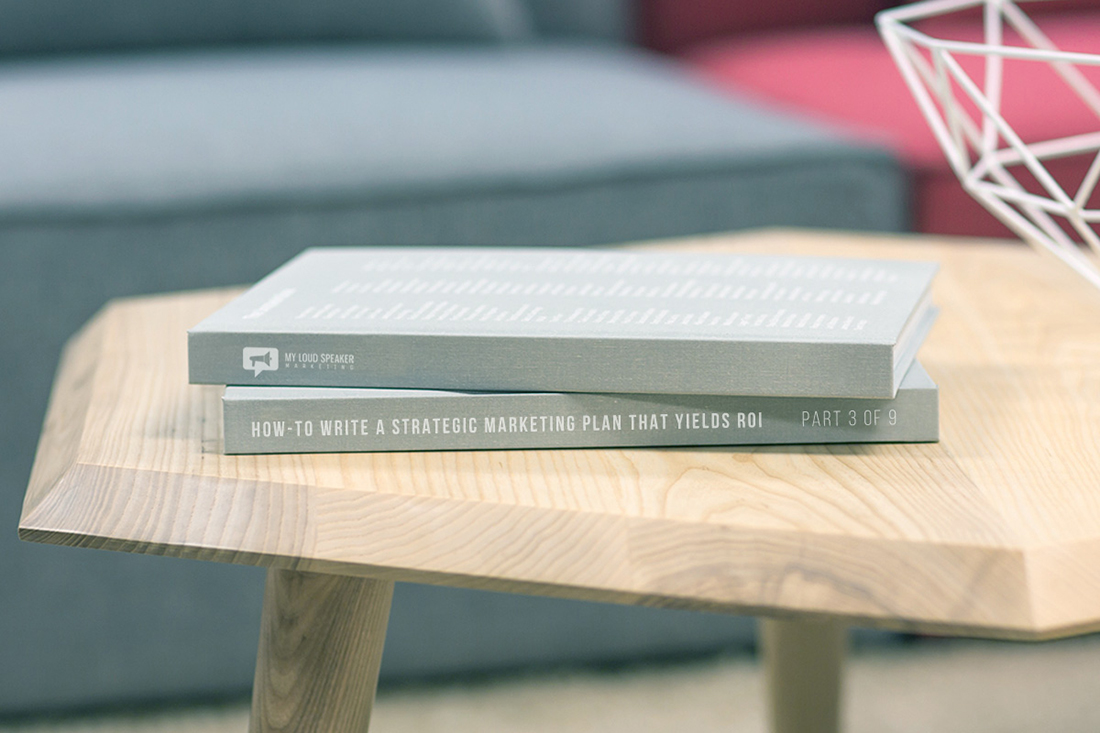 How-to Write a Strategic Marketing Plan that Yields ROI • Part 3 of 9
Why use the Bulls-eye Targeting approach?
It may sound counter-intuitive to only focus in on one target versus expanding and making your service available to everyone. However, below are three examples of why it is a more strategic approach.

80/20 Pareto Law – The concept applies to marketing where 80% of income comes from 20% of your customers. It's important to focus your efforts on these customers and ensure that you're nurturing the 20% that make up 80% of your profit.
The Popular Kid Example – If you look at the big brands out there, you'll notice that many of them start and continue to focus in on one target demographic, and the more they niche themselves, the more successful they've been. Take, for example, lululemon, this organization focused on active women and stayed true to ensure that they provide value to this demographic. By keeping it simple and sticking to just one demographic, they were able to dive deep and build an expertise around it, making them the go-to brand for the active woman.
Tennis Ball Example – Word of mouth (WOM) is the oldest form of marketing and continues to be the most effective. With the introduction of the internet, WOM has come back with a vengeance with online reviews and more social recommendations from influencers. Which makes it more and more important to have one clear key message to resonate with one bulls-eye target. The example we use to illustrate this concept is as follows: if I have ten tennis balls (each representing one key message) and I pass those 10 tennis balls to my friend who fits the same demographic and has the same taste, she'll only catch 5. She then goes on to pass those 5 tennis balls (aka messages) to another individual fitting the same demographic and interest, and that individual only catches 1 tennis ball. I have no control over which tennis ball or key message that individual has.
Ultimately the goal is to have one clear key message that we know is effective with one bulls-eye target. The more focused your target is, the easier it is to define a very specific key message that will resonate and convert.
Bulls-eye Target Marketing
How do you narrow down your bulls-eye target? It's a combination of educated guesses and research. So start off with creating bulls-eye profiles of your target demographic. Then, in the next Chapter (Situational Analysis, including Competitor and Macro-Environmental research), we'll be able to compare the answers and decipher which target best resonates with your competitive edge and has the most opportunity for growth.
Begin by outlining your top 3-5 bulls-eye targets. These can be fictional characters or a real-life example of your perfect client. The only real 'rule' is that you have to be as precise as possible – as if you're describing a protagonist in a book. The goal is to embody this individual and think and feel as they feel. Answer the following questions in as much detail as possible.
Demographic
Name (Fictional) – Create a unique name that embodies the type of person you're about to describe.
Profile (Age, Sex, Ethnicity, Income, Address, Family Occupation, etc.) – Here start describing the individual in detail. Explain the details of their life. Nothing is too mundane.
Geography
Neighbourhood – What type of neighbourhood does your target demo reside?
City – What city? West Coast, East Coast? Big or Small town?
Region (Urban/Rural) – Within the city what kind of urban or rural area they have?
Psychographic
Lifestyle & Class – What is this individual's lifestyle like?
Personality – Attitudes & Values
Behavioural
What does he/she like to do on their free time? Think about what their hobbies are? What do they do with their friends? What magazines, newspapers, social media, books do they read? Where do they shop?
What are some everyday problems he/she has? What issues do you encounter at that age? What worries them at night?
What does he/she need? What is missing in their life? What is one thing that would relief their stress?
What can your organization offer him/her? Why would this individual buy from you and not your competitors?
Who & what influences their decisions?
Who do they trust? When buying your product, who would they ask or look to when deciding if they should buy from you or someone else?
What do they consume that influences their decisions? What do they read, watch, listen to for knowledge and advice?
---
BULLS-EYE TARGETING EXAMPLES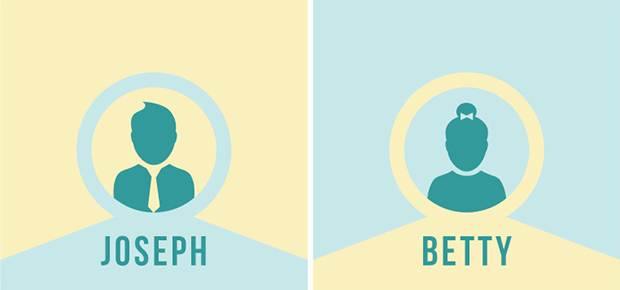 DEMOGRAPHIC
BULLS-EYE DESCRIPTION (AGE, SEX, ETHNICITY, INCOME, FAMILY, OCCUPATION, ETC)
Bob is a 43 Year Old, Canadian, Caucasian. His income is $140k. He has a wife and 2 kids. He Works as a President of Holkins School of Arts. His wife is also high level management and their two kids are in high-school. They are very well rounded with sports and arts. He lives in Burnaby and has held various management positions. This is his first President job.
Betty is a 30 year old professional. She works at UBC and is the manager of Sponsorship. She lives by herself in Kitsilano and has a dog named Spot. Her family is from Vancouver and she grew up in the West end. She attended UBC and has been working there since she graduated. She makes about 65k per year.
GEOGRAPHY
LOCATION (NEIGHBOURHOOD, REGION, URBAN/RURAL)
Lives in Burnaby Heights, in a prestigious residential area. It's slightly rural but has easy access to Downtown Vancouver.
She lives in Kitsilano in a rental apartment. She's looking to buy soon but the market is quite expensive so she's been saving up.
PYSCHOGRAPHIC
LIFESTYLE & CLASS
Spends most of his free time with family. Is family oriented and is fairly well off. When he has time to himself he enjoys golfing and following the Canucks.
She is doing pretty well for herself but she's looking to move up any chance she gets. She's middle class and came from a middle-high class family. She knows the luxury of living on the west side and enjoys yoga, biking and hiking in Vancouver. She goes to Whistler every once in a while with her friends to snowboard and loves to travel as much as she can.
PERSONALITY (ATTITUDES & VALUES)
He's fairly charming and easy going. Everyone likes him. He basis a lot of his decisions based on finances and takes calculated risks to grow the business. He values his employees and company culture but understands the importance of the financial health of an organization.
She's wants to maintain her lifestyle and believes strongly that working hard will lead to more opportunities. She has strong values around family and friends and they always come first. She has strong beliefs around animal cruelty and the environment but she keeps it to herself mostly.
BEHAVIOURAL
WHAT DOES HE/SHE LIKE TO DO ON THEIR FREE TIME?
Enjoys spending time with his family. He golfs with his university friends. He also has a hockey pool and enjoys reading nhl.com for the updated news. He also enjoys cooking and travelling.
She loves to go to yoga to decompress – it's her own time to herself. She loves travelling and exploring the world. She also loves to read fiction books and enjoys the occasional non-fiction biographies.
WHAT ARE SOME EVERY DAY PROBLEMS HE/SHE HAS?
His biggest issues are ensuring he can put his kids through to university, keeping his wife happy and maintaining his health. He wants to stick around to see his grandkids.
She is cognizant that she's 30 and she wants to meet the right person. She knows she's very focused on her career and does want to get out more to find someone. She worries about money as she doesn't have enough to live the lifestyle she wants but she knows that a lot of it is a luxury.
HOW OFTEN DO THEY USE YOUR SERVICE OR PRODUCT?
He's a loyal user of our product. He likes to be very hands on so visits frequently and is highly involved in the process. Enjoys learning and wants to expand on their expertise.
Every few months. If it's convenient she'll drop by and pick up something.
HOW LOYAL ARE THEY TO YOUR SERVICE?
They are very loyal. They trust our decisions and asks us for direction and advice.
Not totally but enjoys the product and will choose it if she's nearby. She does use others that are similar.
INFLUENCES
WHO INFLUENCES THEIR DECISIONS?
They trust their wife, lawyer and accountant for a lot of their decisions. Also trust their management team greatly. He likes to listen to what his team has to say. Also likes to read up and keep up to date on the latest in the industry. So is up to date with the industry paper and has colleagues in the industry that help keep him a top of trends.
Her mom and her close girlfriends. She trusts their opinions a lot and seeks their advice. Also an avid review reader. She likes to know she's investing into something that has proven quality.
WHAT INFLUENCES THEIR DECISIONS?
Very practical in their approach – foremost the company health is important and nurturing top talent is important as well.
She wants bang for buck and thrives on knowing she has a good deal. Likes to ensure it's worth the money if she's investing in it.
---
For each target, it's important to understand them in depth and align it with your competitor analysis where the combination of the Situational Analysis and Competitor Analysis will naturally produce a value proposition that is unique to your organization in your industry. Now that you know the details of each, you can look into individuals who buy the most profitable products or services from you. This will help inform your decision but it should not be the definitive answer until you've done your Situational Analysis and compare the results.
Market Segmentation
There are many ways to break up a market. The most common are geography, demographics, behaviours and psychographic ways. We suggest doing this after all the Situational Analysis is done.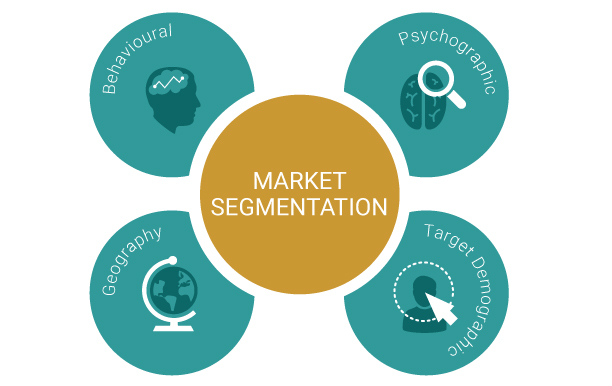 We will explore the four ways to segment your target as an example, but note you can further split each of these four segments or use a couple of segments exclusively or in combination.
There isn't a right or wrong way to define a segment. Ultimately, the goal is to find out who your most popular group is and focus in on them. This exercise helps you define some of your key demographics based on your experience. Now, it's time to look into the data and see it corresponds with your educated assumptions.
Take the list of your customers and start looking at the clients with the highest profit margins that bring in the most revenue, indicate the services they bought and, if relevant, the services you enjoy or want to expand in. Now, with tags for each client, break down their information based on the above identifiers within each segment. Order it by the most clients in each section.
By now, you can see which identifiers are the areas you should expand in. The tags you put in the first step should reveal which identifiers are the most important. Be open-minded, it may not be what you expected.
Going back to your bulls-eye targets that best encompass these identifiers, why they value your product most should be outlined in some way. By aligning that value with your competitor analysis, you should be able to solidify your value prop.
So by the end of all your analysis, you should know who your target is and what value prop is most suitable.
---

Check out all our posts in this series!
---

(Visited 4,588 times, 1 visits today)