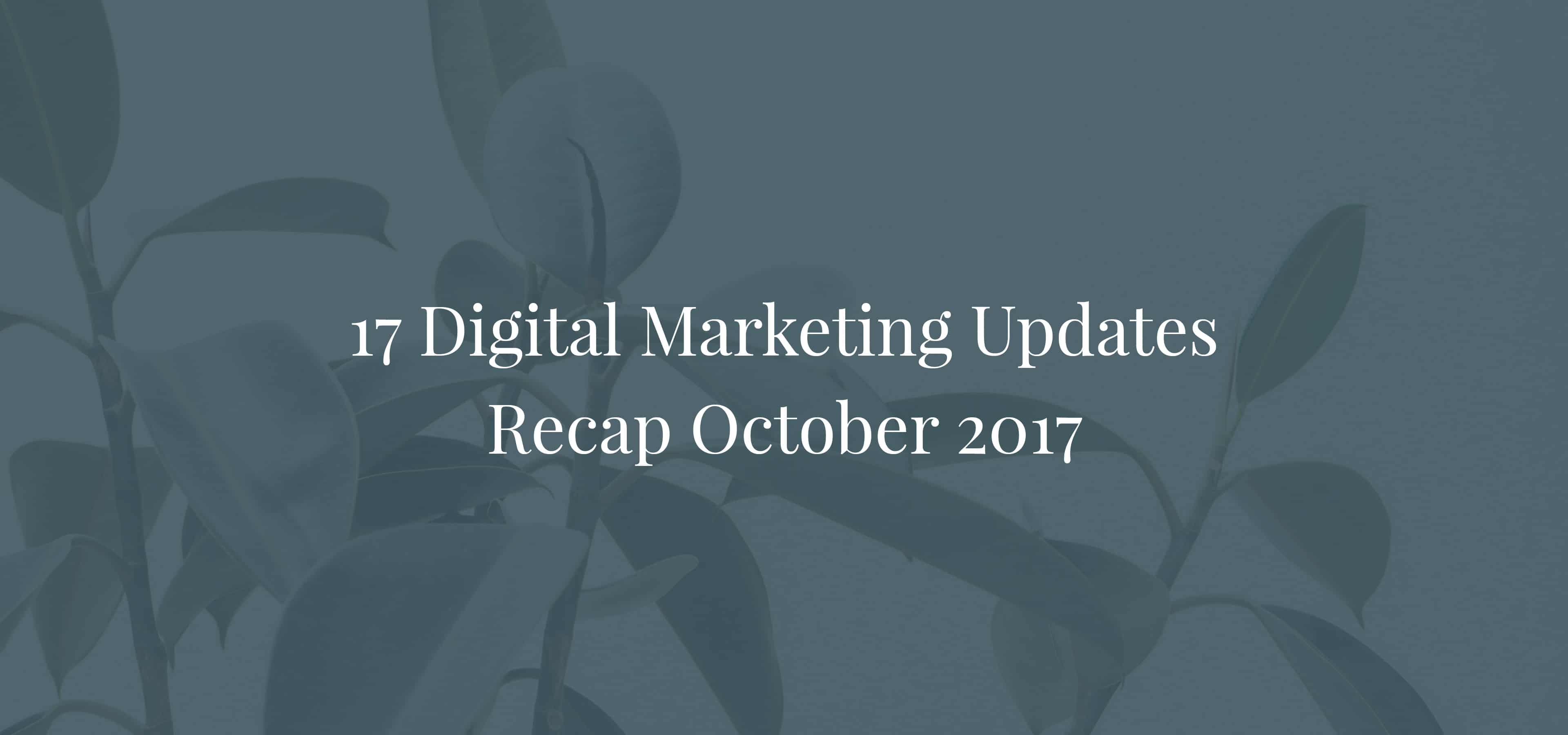 We're breaking down the latest news & updates happening to major digital marketing media. We've got it all, Google, Facebook, Instagram, Twitter, Youtube and Snapchat and everything that's happened throughout September and October. To find out more, here is a list of our monthly digital marketing news posts.
Google Updates & News
Google Organic Search / SEO

1. Possum / Hawk Update:

This update only affects local search. Previously, the Possum (or Hawk) algorithm changed the way local search filters work by filtering out similar search results that are physically located near one another. Instead of showing all the results, they picked the most relevant results while the others were filtered out. After the update, local businesses that are bunched together, are less likely to be lost and are seeing positive results.
For greater details, visit SEO Roundtable or Search Engine Land.

2. Search Ranking Shuffles – Unknown Algorithm Update – Sept 6 – Sept 27 :

Throughout September, there were big ranking shuffles happening. What caused the ranking shuffles has been unclear. For more details about the ranking shuffles, see the following articles from Search Engine Roundtable or visit here.
Sept 6: Google Search Ranking & Algorithm Update Underway? Chatter…
Sept 8: Google Search Algorithm Update Today
Sept 18: Google Search Algorithm Update On September 16th
Sept 20: Google Search Ranking Update Chatter Continues
Sept 27: More Google Algorithm & Search Results Shuffling
Google Adwords
3. Google Analytics & Apple's Intelligent Tracking Prevention – Sept 8

Apple introduced Intelligent Tracking Prevention which prevents Google Analytics and other third party tracking tools from gathering browsing data from Safari. In response, Google developed their new Google Analytics cookie so that they can still capture browsing data and conversion data for Safari.
If you are running a Google Adwords campaign, make sure to link your Google Analytics & Adwords account. Otherwise, the browsing data via Safari will no longer be accurate.
Source: https://searchengineland.com/google-analytics-adwords-response-apple-intelligent-tracking-prevention-282233
4. New Google Merchant Features – Sept 19

Google developed two new features for their Google Merchant Center:
Supplemental Feeds: Supplemental feeds make the process of managing changes to production easier. Previously, you had to edit the primary feed directly when you updated the product availability and price. Now you can make edits on supplemental feeds. The price and availability update has to be done through the supplemental feeds. Read more about Supplemental Feeds.
Global Advancement: Now you can target global customers simply by adding new targeted countries regardless of the language. Your product price will be converted into the currency on the user's end. Read more about Global Advancement.

5. Google killed second description in search ads – Sept 20

In Google Adwords Search Ads, the second description is no longer available.

Image: Search Engine Land
6. Ad Extension for Call-Only Ads – Sept 21

Three ad extensions for call-only ads have become available:
Location Extension: showing your business location.
Callout Extension: showing unique features of your business (ie. great customer service, 24 hours).
Structured Snippet: showing your services catalogue, brands, product types, etc. (ie. marketing strategy).

Image: Google Inside Adwords

7. Google Adwords Overdelivery Limit Change – Oct 5

Starting Oct 2017, Google Adwords might charge you up to twice your daily budget. The idea is to maximize the possibility of capturing quality traffic.
Let's say you set your budget at $5 a day and your billing cycle is 30 days. Over the course of the month, you notice that your charges vary. Some days you're charged $2, on others you're charged $10. But at the end of the month, your charges won't exceed $152 (that's 30.4 multiplied by your $5 budget). So even though your campaign costs tipped above and fell below your $5 budget from day to day, at the end of the month, you're still charged no more than what you budgeted.
Source: Adwords Help
If you run Google Ads throughout the month, then this change shouldn't be a problem. However, if you run ad campaigns for less than a month – let's say two weeks for a test or short-term promotional campaign, chances are you might be charged double.
Currently, Google doesn't let advertisers set up a monthly budget limit. Therefore, you might cut down your daily budget by half of your entire daily budget to prevent your campaign from overspending, otherwise you need to write this adwords script. For more details, visit Search Engine Land.
Facebook Ads Update & News

8. Temporarily Removing The Four Ad Targeting Options – Sept 19

ProPublica revealed that Facebook targeting options have the ability to let advertisers target "Jew Hater" as an education field and "NaziParty" as an employer. In response, Facebook disabled the four ad options: school, employer, field of study and job title. These fields were populated based on the profile details that Facebook users submitted. These four ad options won't be available until they have a proper process. Those target options are still available for existing campaigns, but are not available for new campaigns. For more details, visit here.

9. Enhancing Collection Ads – Sept 21
Facebook launched a new canvas template called Collection Ads to give advertisers more power to inspire their customers through mobile devices and drive greater sales.

Image: wersm

10. Improvement to Offline Conversion – Sept 21

Facebook added new features to offline conversion.
Facebook developed the functionality to target people who had certain offline conversion events, which opens a door to nurturing, upselling and finding new opportunities based on previous offline conversions.
For example, a real estate company can automatically show an ad with their latest house listings to people who have called to schedule an open house tour in the last 30 days. Businesses can also create lookalike audiences to find new potential shoppers that share characteristics with their best customers that shop offline.
Reference: Facebook Business
Now you can also target people based on store visit events using offline conversions.
For example, an apparel brand may use these custom audiences to show an ad with their new winter arrivals to people who have visited their locations. They can also choose to exclude in-store customers, for example, when running a promotion available only for new customers.
Reference: Facebook Business
For more info about Facebook Offline Conversions, visit here and here.
For more info about store visit ads, visit understanding your store visits reporting and Create ads for the store visits objective.

11. Message Objectives for Facebook Ads – Sept 26

As a growing number of ad objectives that Facebook offers, Facebook Messenger has been added. As 2 million messages are sent monthly and an increasing proportion of social media users prefer messaging channels over others, this new feature helps you cultivate new opportunities – more info.
Instagram

12. Instagram Story Ads – Sept 12


Reference: Creative Click Media
In March, Instagram launched Instagram Story Ads and added additional features to their stories so advertisers can make the most of their ads.
Integration with Facebook Canvas, offering a seamless extension of the full screen experience of Instagram Stories

An uploading tool that allows businesses to use their existing organic stories as ads in Power Editor and Ads Manager, unlocking the creative tools of the native Instagram Stories camera
Placement optimization to run campaigns across Facebook, Instagram and Audience Network
Reference: Instagram Business Blog
Twitter
13. Doubling the length of tweets to 280 characters – Sept 26

Twitter started a test run for doubling the length of tweets from 140 to 280 characters. More info.
Youtube
Youtube introduced a series of new ad features.

14. Custom Affinity Audiences – Sept 25
Custom Affinity Audiences, allows you to target people on Youtube based not only on Google Search, but also their Youtube searches and user's behavioral data among Google products including Google Maps, Google Search and apps.

15. Director Mix – Sept 25

Director Mix allows you to tailor personalized video ads based on your target audience demographic using one video asset. All you need is to upload different voiceovers, backgrounds and copy. Then they'll create the different versions of your video.

16. Offline Sales Tracking – Sept 25

Partnering with Nielsen MPA & Oracle Datalogix ROI, Youtube rolled out a new way to measure offline sales. This allows advertisers to see the correlation between Youtube ad campaign and offline sales and measure the ROI in a more comprehensive way.
This geo-based solution offers a fast, media-agnostic way to determine which online ads drive offline sales.
For more info, visit here.
Snapchat

17. Sponsored 3D World Lenses – Sept 28
Snapchat launched Sponsored 3D World Lenses that allow you to create branded immersive filters. This campaign is only available to buy through Snapchat's sales team.


Image: Marketing Land
Wrap Up
Along with mobile usage growth, each major digital medium is aiming to create richer experiences through mobile ads. In addition, Google started a test of Mobile First Index. If you don't have a mobile presence in your digital marketing effort, this may be a good time to think about it.
(Visited 826 times, 1 visits today)
Want to learn more?
If you want to learn more about specific key elements of an effective marketing plan, read our 50+ page booklet on How to Write A Strategic Marketing Plan That Yields ROI – complete with explanations
(Visited 414 times, 1 visits today)