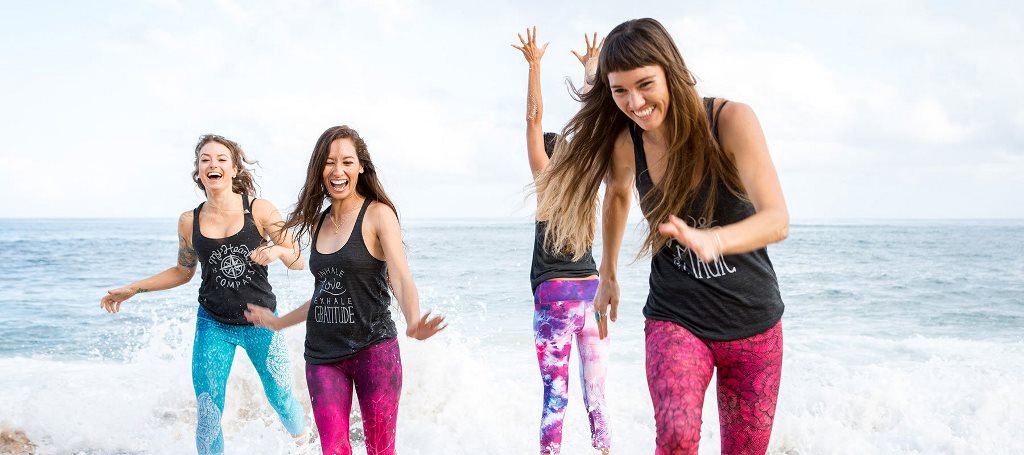 We sat down with Leah, founder of Inner Fire to take a closer look at the community she built around their eco yoga apparel brand.
Based right here in Vancouver, Leah had a mission to create clothing that is both eco friendly and ethically made. With all their yoga pants being made with recycled water bottles, and their printing done locally – Inner Fire walks their talk. So, it's no surprise the brand has grown a healthy community, appealing to the adventurist and urban yogis from all around who resonate with Inner Fire's values and generally awesome vibe.
Growing steadily since its inception in 2012, we wanted to see just how Leah was able to grow their following and impressive tribe of brand fans. Time to strap on your lab coats, hunni, let's dive deeper into all things yoga-love in our Tribe Lab and see if our methodology can help take this brand to the next level.
Ohm!
Passion 5/5
Their passion is a combination of not only love for yoga, but also love for the planet, and their passion manifests in different ways. Most of their brand ambassadors – which Leah has warmingly coined their 'Luminaries' – are outdoorsy and have expressed openly their love of doing yoga in beautiful outdoor spaces. One need only look so far as their Instagram account to see it for oneself.
It's clear that Inner Fire is well equipped with strong values that permeate throughout its brand, and these values help to cultivate a brand community that share these values. When you identify with a brand's values, loyalty is sure to follow.
The five key pillars of Inner Fire are as follows:
– live healthy
– live connected
– live conscious
– live happy
– live inspired
A passion for yoga is undeniably strong, but their further dedication to the environment helps to create a unique takeaway for Inner Fire's brand. In fact, we'd even go as far as to say it's "Bang on." The only advice we'd offer in terms of really setting their passion alight, would be to find a more succinct way to tie their passion for yoga and the environment together.
You never want your passion to seem unclear, and sometimes having two elements – in this example, yoga and the environment – can be confusing. Therefore, if this is something your organization sees reflected in their passion, try and find a way to place them together that is cohesive, concise but doesn't sacrifice what is most important to your passion.
Little known fact: Yoga is all about the environment and being more conscious. It's not just a great way to get a stellar bod, or a lofty excerpt from Elizabeth Gilbert's 'Eat Pray Love'.
Vision 3/5
No hesitation, Leah has a solid and unwavering vision of where she would like Inner Fire to go. She hopes that Inner Fire takes its place as the premier eco-yoga apparel brand with all of their sourcing being done ethically. While this is a great vision for the brand as a whole, a vision for the community is treated differently. You want to ensure that your vision is something your community can actively work towards.
With a solid community in a place with a passion that resonates, the only thing missing is a solid vision – an unobtainable goal – to motivate their community to work together towards something greater. As an environmentally conscious brand, Inner Fire has a great opportunity to step back and consider what they want to focus on and what impact they want their community to make.
With advocacy initiatives already in place protesting pipelines and fighting for water conservation, this might be the best place to create a meaningful vision that will activate the community. Once they've taken the space to consider where Inner Fire wants to give back, it will be clear what their community's vision will need to be.
Leader 3/5
Inner Fire has two women working within their Gathering Place to manage the different activities, referrals and tribesmen. Their in-house community manager is responsible for creating the strategy for the community and communicates with their tribesmen and community directly.
Generally, their leaders are always there, and it is their role to answer any questions that arise from within the community. With a plentiful amount of Luminaries engaged in their Gathering Place, it's rare that they take any longer than an hour to respond to any inquiries happening within the group.
With healthy engagement happening within their community, a great recommendation would be to make a shift, allowing instead for the moderators – or leaders in this case – to become a more volunteer based position that would activate tribesmen within their community to take ownership of the discussions and chitter chatter happening in the group.
Not only does this empower your tribesmen to be even further invested in the brand community, it also garners more respect from the community as a whole. An established leader who is recognizable to their peers and other members gives a great edge, as they understand the tone, native language, and values of the brand and will be more powerful in maintaining a consistency in the community.
Empower your community to become your leaders.
Tribesmen 4/5
Inner Fire has done a fantastic job of growing a solid core group of Tribesman. In fact, their marketing materials and a lot of their content is all generated by their loyal tribesmen who love the brand and use personal time to show themselves living the brand values. This is an excellent strategy in terms of developing trust and a deeper connection between the brand and it's tribesmen. I mean, who wouldn't want to see themselves featured on a website or social platform of a brand and product they love?
Initially, the goal was to generate as many luminaries (tribesmen) as possible. But as Inner Fire grew, they recognized they needed to reassess the manner in which they onboarded and defined their tribesmen. With some programs which offered free apparel for social engagement, they noticed that members would only engage until the promise of free swag was delivered, and then they would drop off. Therefore, it was time to rethink who the tribesmen were and how to engage them in a more meaningful way. It's one of those quality over quantity things.
The brand takes great strides to highlight their tribesman, whether in their campaigns, or their marketing materials. They love to feature their luminaries and help to give them a platform to truly shine and showcase all the cool things they are doing. This.. is awesome.
Inner Fire is unique in that, other than their public platforms, they have an additional Facebook Group reserved solely for their Tribesmen. Better still, Inner Fire has seen that their community has engaged outside the digital realm, with meetups at festivals and events, and real friendships developing both on and offline.
However, separating Tribesman from the members of the whole community is unusual. On the plus side, this space rewards their tribesman and provides them with further ways to establish themselves as leaders in the community. However, it builds clout for the greater brand community to have those tribesmen within the public realm to help build trust and strengthen the community as a faster pace.
When you see a lot of engagement, it encourages other members to want to be a part of it more. To garner more engagement is to establish that concise vision and passion in order to motivate them more towards a goal.
Content 4/5
Inner Fire's content is generated, for the most part, by their own community. A dream come true for many brands. Inner Fire focuses on creating campaigns that activate their community to create new content, and then watch the photos and videos roll in, filling their feed with beautiful imagery and placing their product in stunning places, sported by yoga leaders from around the world.
Aside from the content their members create, they also sprinkle their feed with entertaining content. They receive positive engagement from Yoga Memes and No B.S. quote posts that keep the community engaged and coming back for more. And recently, their community manager has developed a thing for unicorns – so you're likely to see a few of those mythical beasts making appearances on their platforms too.
You can't argue the magical draw of a mystical unicorn, you guys.
However, Inner Fire has also done their part to post content related to eco advocacy. This plays a positive role in getting the community fired up to take action, and strengthens their brand's environmental values. When they see relevant content that is engaging about the environment and would appeal to their members, Inner Fire will share it with the community knowing it's appreciated.
Allowing the community to take ownership of the content garners trust throughout the community. The only thing missing from the mix is the educational content that would create more value for their members and tribesmen. Knowing a lot of their tribesmen are yoga teachers themselves, asking themselves "what do my fellow luminaries need?" will allow them to develop unique content that will benefit the greater lives of their members.
In terms of content, it's important for any brand to consider their content categories. It's important to have a good mix of educational, inspirational, entertaining, and advocacy posts. The bigger question is what percentage those should be and how they should be posted.
Gathering Place 4/5
While we touched on this a little earlier, Inner Fire has a few gathering places where the community resides. A public facing Facebook page, their Instagram account, as well as their private group for their tribesmen. They've noticed that they have a strong core group of people who actively engage and participate on multiple platforms.
Facebook is a powerful platform because it allows more space for the community to have discussions amongst themselves. You can see people interacting and relating to one another, and this is what community is all about. It also allows for more transparency among members to know who it is they are engaging with. This platform has a more collaborative feel, and communities benefit from that feeling.
With that in mind, when you have a healthy following on Instagram – with Inner Fire, they have a healthy following over over 35K followers – you can help to drive people to the Facebook community in order for them to engage more strongly with one another.
Another good thing to note, is that when you have a mix of members and tribesman, someone visiting your brand community can see the engagement. The more engagement they see, and the more discussions that are happening, will also encourage these visitors to join the community and want to get involved in their own way.
Trust 3/5
Freedom of speech between members, which can be seen within Inner Fire's community, contributes to the trust felt between the members and the brand. Transparency, again, of members is another contributing factor to the trust score that Inner Fire nailed .
In terms of leaders, something that can really set a community apart is the length of time in which a leader responds to questions or comments. You want to respond as quickly as possible to build a bond between the organization and community as a whole, which Inner Fire does well at. They try to ensure they reply within a day, at least, and benefit from having a community manager who is responsible for keeping an eye on their community, and ensuring things are running smoothly.
With their tribesmen, they have some freedom to choose their settings and are able to have open communication between the community and the leaders as well. As Inner Fire's community continues to grow, it should be less top down and more about having a consistently engaging conversation.
Is it time for you to look at your community?
Pretty much any organization that has a passion and vision can create a community. When you have all the elements of a strong community, no matter what your community is about, you have a chance to build something strong around your brand.
If you want to learn more, it might be valuable to read our community marketing strategy posts
Header Image: Inner Fire
(Visited 290 times, 1 visits today)
Want to learn more?
Let us assess the health of your current brand community. Following our tried and tested methodology, we'll help you to see opportunities to strengthen your community and give you the strategy you need in order to activate them toward conversion.
With My Loud Speaker's Tribe Lab, we study the social psychology of communities and share our research in hopes of replacing noisy, interruptive advertising with passionate brand communities around the world.
Create a bigger impact with a stronger, louder, healthier community rallied behind you. You've got the vision, you've got the spirit, it's time to give your community the momentum to make the impact you want. To get a free rating and recommendations for your community, get in touch!
(Visited 1 times, 1 visits today)