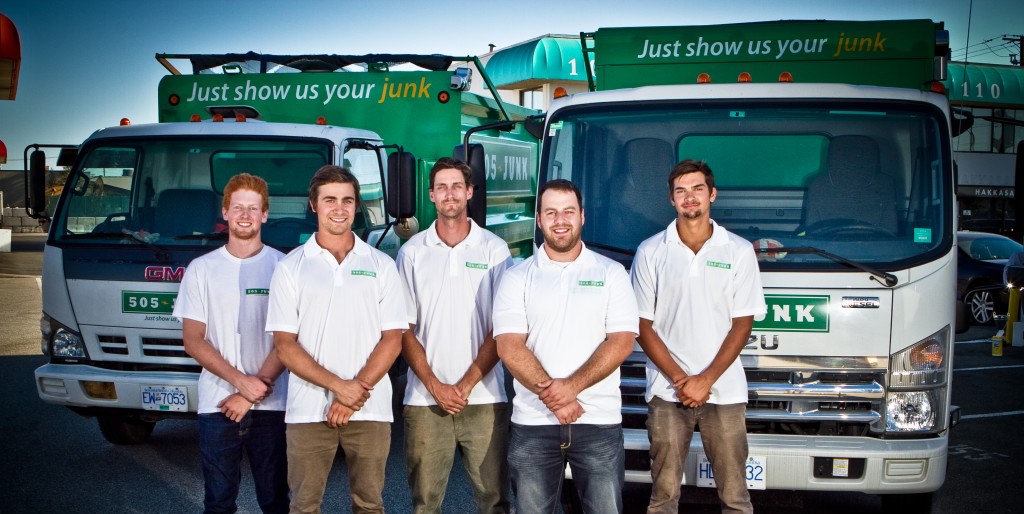 Previously we rated Girl Gang and Inner Fire on their communities. For more info on our rating system, click here.
If there's something we all have in common – aside from our need for food, water and sleep – we all have junk. Humans create waste and it's hard to avoid it. With consumerism at an all-time high, the trend of discarding our old things for an upgrade is a trend that isn't going anywhere.
While the junk continues to pile up, it has also created conversations about our collective impact on the environment. There is a greater demand for ethical waste removal to keep junk diverted from landfills. As recycling, upcycling, and new processes are put into place to treat our world with more care, our local communities need a hero. Someone who'll do the dirty work and take our junk, and ensure it's going as many places as it can other than the dump.
We sat down with Barry, co-founder of 505-JUNK in our Tribe Lab. Could he be the hero of junk removal? We wanted to assess his brand and learn a little more about how to cultivate a strong community around a growing passion the world at large is cheering for.  
Passion 3/5
Founded in 2011, Barry and Scott decided to drop out of their marketing program just one credit short of their diplomas, and chose a route less ordinary: entrepreneurship. Starting with a down payment on a truck, and with some money in the bank, they had a desire to start something of their own. 505-JUNK was born.
Since their inception, they've grown significantly. Now boasting about 16 employees, and developing their own franchise model, 505-JUNK has become a successful venture – and it very well could be that their passion is shared throughout the local community.
Community marketing is essentially how to create a community around your brand and get that community to convert for you. Can a company like junk removal have a community around it? Of course. Our Office Perfectionist, Mark, considers recycling one of his true passions.You probably also know someone who is passionate about making ethical choices around they way they dispose of their trash.
We all have that friend.
More and more every year, the material 505-JUNK picks up seems to get newer and nicer. They donate a lot of materials to non-profits, charities, and other areas. Seeing the trend of consumerism resulting in perfectly good items going to waste, they felt a responsibility to do their part to divert as much of that 'waste' as possible from landing in the landfill. And this passion is shared by many in Vancouver and well beyond our city limits.
In fact, 505-JUNK's entire office was furnished in their first two weeks, solely from the junk they were disposing. Macbooks, computers, boardroom tables, all the carpeting, and new TVs. Talk about a cost-effective business model.
Aside from the passion for the environment and making ethical disposal choices, Barry also has a passion for entrepreneurship he hopes to share with his community. The idea to create a franchise model stems from Barry's personal passion for creating more opportunities for others, and giving them the tools to create abundance for themselves. He wants to create more entrepreneurs and opportunities, and that gets our fires stoked.
The only barrier standing in the way of a perfect score for 505-JUNK was that they have two passions in two different areas: One is more focused on the customers they serve and environmental impact, while the other is about entrepreneurship. By defining two communities for each passion, they'd be all set for a 5/5.
Vision 2/5
Internally, Barry's vision for 505-JUNK's future is clear. They are hoping to take their model and introduce it to new markets throughout the world. Understanding that their passion is shared by a large portion of the population, there are plenty of communities awaiting them with open arms. In the near future, they hope to expand across Canada, then take their model south of the border to the badlands of the USofA.
They are firm believers in the triple bottom line. This means giving back to the community, being environmentally conscious, and also being profitable. They know they've got a system that is working, and they want to empower others to run their model for themselves, and create positive impacts in their own communities.
That sounds like the start of a great vision for potential entrepreneurs, and 505-JUNK could begin to grow a community for these types of folks specifically to really make it soar. They are seeking out these types of individuals who share a similar passion. Ideally, they would love to see a 505-JUNK in every community across North America making positive impacts to each portion of the triple bottom line.
Their second vision for diverting more waste from landfills is also shared by their community currently. As the passion continues to grow, more opportunities for recycling and ethical disposal options have opened up. And there's a hope that the demand for more recycling programs will continue to create opportunities therein.
Their community has become a mix of both residential and commercial clients, who are two different type of profiles. And aside from these two types of community members, there are also the potential entrepreneurs too. No matter which customer you're speaking about, including potential entrepreneurs, 505-JUNK is consistent in that they are offering a sense of relief. And that type of value tends to get people talking.
In order for 505-JUNK to score higher in terms of Vision, they simply need to take a good hard look at the community they've grown so far and develop a concise vision that will activate their community.
In terms of their future entrepreneurs who are most interested in the franchise model, it could be good practice to develop a separate community for these people that is focused around a different passion and vision that is more directly associated with the power in ownership and opportunity. This way, your passion and vision is never muddied between Barry's two clear desires for 505-JUNK's future.
Leader 4/5
When we asked Barry who was manning their community, he told us "Barry." That's him! However, there are a number of different channels to keep his eye on, whether Facebook, Google Reviews or Yelp.
He makes an effort to ensure that he responds swiftly. He's well aware that response times can make all the difference when it comes to customers making buying decisions. He's usually right there and back with a response to his community within 10-20 minutes. That's solid, and that (Taylor) swiftness is always appreciated by customers and community members alike.
Aside from being swift to respond, Barry is respected by his community. A part of this can be attributed to the content he posts that supports the community's passion, and the insights he shares from his personal story as an entrepreneur. Plus, when faced with negative feedback, he doesn't turn a blind eye. He knows it's important that he listens to what their customers are saying, talks about how 505-JUNK  tried to resolve anything negative, and communicates that they are always trying to do better.
He lives the values, and there is no disconnect between the service 505-JUNK offers and the manner in which he runs his business. He walks the talk, and we're all about that.
Tribesmen  2/5
505-JUNK has a few tribesmen mingling in their community. For one, they have some 'super fans' that Barry knows will be commenting on their content within minutes. The same 2-3 people are always engaged and ready to start a dialogue.
Further still, it's clear that many of their commercial clients take the time to talk about 505-JUNK outside the digital realm, referring the business to others. As is common practice, 505-JUNK does their best to track how new customers come to find them. Some of their community members have been so jubilant in giving referrals, they've had to add new lead sources to specific individuals as they play a huge part in referring and growing the business.
This is a direct result of these tribesman buying into the vision and wanting to share it with other people in their network. The only thing limiting their score is that tribesmen, while referring new customers, aren't sharing content with the community itself. But maybe that's not something that they've considered an option. By ensuring the gathering place becomes that type of hub, there's no doubt that could happen more organically.
Content 1/5
505-JUNK's Facebook page is chucked full of content about the business itself. Barry does his part to share the ups and downs of being in the business, and uses the platform to share their brand story. You can find articles about their wins with local awards, video content about their service and franchising opportunities, and relevant content related to their passion for keeping things green.
What this has done is created a positive medium that takes their members along for their journey, and share in their successes as entrepreneurs. And it keeps their internal going-ons right at the forefront, so community members feel more invested in them. You can see their passion, pride and joy for yourself, it's all right there on Facebook.
This lends well to creating strong brand fans, and developing a more personal connection with the business. But for a community to thrive, you need to offer them some additional value and takeaways so they are activated to work towards the company's vision.
An area of opportunity for 505-JUNK would be to add more content categories, and begin to share content their community can put to use. Whether that's better ways to upcycle, more resources in terms of eco-conscious waste disposal, or even guides on how to limit the amount of waste they create to leave less of a footprint on Mother Earth.
And we're all for a little entertaining content too. Adding a little fun content that is solely for entertainment and a smile can go a long way in continuing to engage the brand fans who are aligned with 505-JUNK's passion and vision.
Gathering Place 1/5
The gathering place is a little scattered, admittedly. While 505-JUNK has an active Facebook account, they do see a lot of comments and engagement happening in other areas like Yelp and Google Reviews. 505-JUNK wins by always responding quickly, regardless of the platform, but there are limitations in place.  
As it stands, Yelp only encourages business owners to step in and comment on negative reviews, and therefore, they can't respond to every review that is placed. Google Reviews doesn't have the same restrictions, so they do their best to comment to their feedback there as well.
By working on their content game, offering more value through useful content, and creating opportunities for their members to have on and offline conversations, 505-JUNK will be on path to developing a stronger gathering place that will play a larger role in generating conversions for the business.
Trust 5/5
For so many reasons listed above, 505-JUNK gets a top score in the trust category. With member transparency on their Facebook page. Quick response times, customizable settings and conversations happening openly and honestly – you couldn't ask for more.
The real cherry on top is that Barry sees the value in learning from mistakes and listening to his community and customers. Rather than turning a blind eye and avoiding, he'll be the first to address when something didn't go well, and takes the feedback to better his business. That is goals, my friends.
After looking at 505-JUNK's community, they received an overall score of 18. The strongest communities rate at 28 and over. However, they need not fret about their current low score. As we've mentioned in our earlier blog 'How to Evaluate Your Community,' it only means you've got some planning and work to do. By taking the time to focus in on their Passion and Vision, the rest of the puzzle will begin to fall into place. It's important to start with those two elements and sure they are solid in order for any community to score high.
Is it time for you to look at your community?
Pretty much any organization that has a passion and vision can create a community. When you have all the elements of a strong community, no matter what your community is about, you have a chance to build something strong around your brand.
If you want to learn more, it might be valuable to read our community marketing strategy posts
Header Image: 505-JUNK
(Visited 355 times, 1 visits today)
Want to learn more?
Let us assess the health of your current brand community. Following our tried and tested methodology, we'll help you to see opportunities to strengthen your community and give you the strategy you need in order to activate them toward conversion.
With My Loud Speaker's Tribe Lab, we study the social psychology of communities and share our research in hopes of replacing noisy, interruptive advertising with passionate brand communities around the world.
Create a bigger impact with a stronger, louder, healthier community rallied behind you. You've got the vision, you've got the spirit, it's time to give your community the momentum to make the impact you want. To get a free rating and recommendations for your community, get in touch!
(Visited 1 times, 1 visits today)