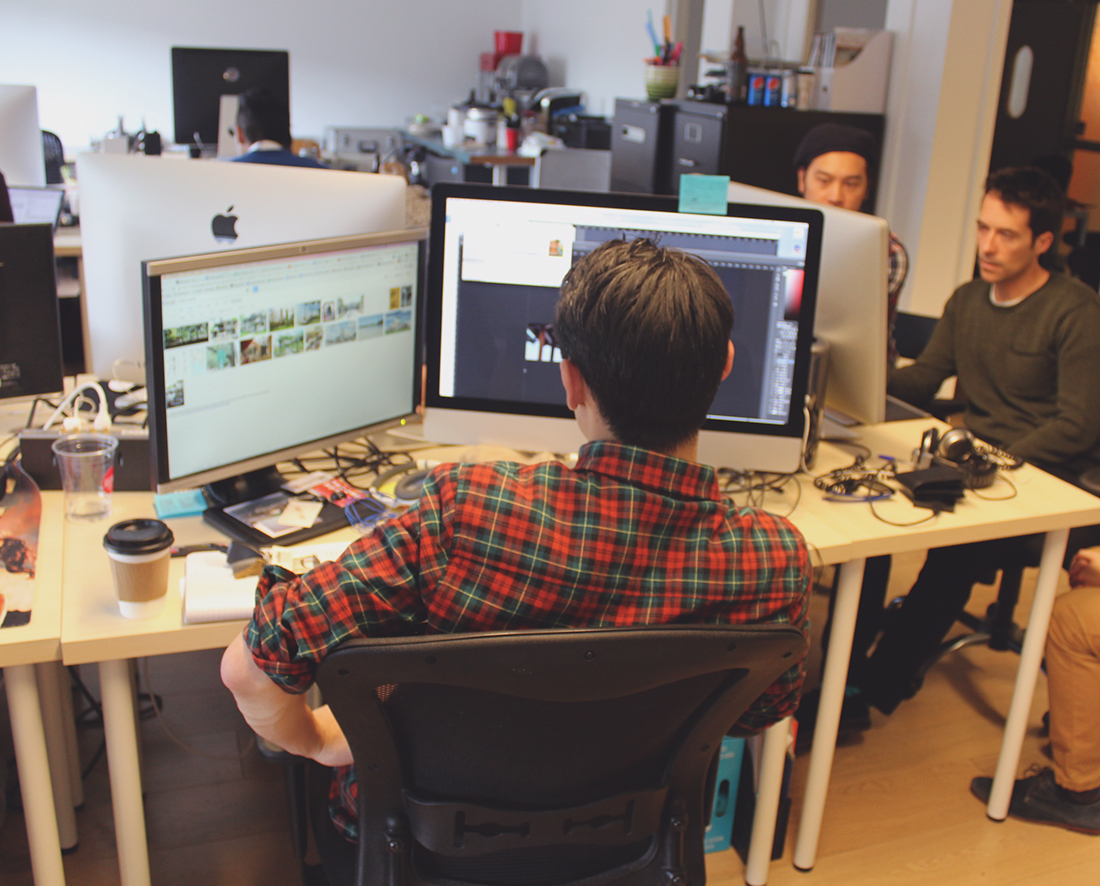 Almost everyone out there nowadays either uses Photoshop themselves, or at least knows someone who does. But, does being able to Photoshop make you or your acquaintance a graphic designer? The short answer is, no.
While a free dinner in exchange for a logo design might work for you, branding and design shouldn't be taken lightly. This is a huge industry for a reason, because what can be produced for your brand can range from very high quality to very low quality.
So why should you hire a graphic designer instead of your computer-savvy niece? Think of it this way, imagine you need to build an addition onto your home, and you've noticed your niece builds the most amazing popsicle-stick structures – with that talent she possesses, would you hire her to build that addition to your home? Hopefully not. You likely would want someone with credentials, experience, and a proven record that they can achieve the kind of results you're dreaming of.
Design is important. That's because it is often the first impression people get when they come across your business. It could even be the reason people choose your business over the competitors.
Communicating with a Designer
Design needs to be a partnership – a union of two different approaches to achieve the same goal. An experienced graphic designer should consider your needs just as much as you should consider theirs. Invariably there will be a difference of opinion, but that's not a bad thing. Just like any relationship, it's important to communicate, and learn about the strategies from each side, because they will both become important in their own right.
Target demographics, communication strategy, messaging, and ROI, are all topics that you and your graphic designer should be discussing when coming up with your designs. These topics should never feel like a one-way street for you, or for your designer. You can't create a good design that achieves your needs if your designer doesn't fully understand your business model, your goals for the overarching marketing campaign, or the simple reason of why you're paying them.
Learning to Trust Your Designer
When choosing a designer, you need to make sure the designer is in tune with what's current, in addition to being able to understand what appeals to a certain audience. Once you choose one, you need to understand the designer will be just as nervous to work with you, as you are with them. You might even find them over-marketing their initial design to you, because they are really worried that you, as their client, are not going to understand what they're saying if they just show you their design at face value. However, developing an intuition for design takes a lot of experience and time to train the eye to see, and that can't be shown during the initial workings of a project. It's important to keep an open mind to new approaches and ideas from what you initially expected to see, but also take the time to ask the questions to really understand the core essence of what is the designer's real approach, because they will appreciate this greatly.
Additionally, as a quick tip, visual references (or examples in general when thinking about any type of visual, auditory, experiential, motion or 3D design) are extremely valuable when needing to get on the same page with your designer. Words can be interpreted thousands of ways – for example, the word red could invoke different images to anyone listening, such as an apple, a firetruck, a stop sign, etc. – so learn to be very clear with what you're looking to achieve, and what you want to communicate.
When to Fire Your Designer
Not all designers are made equal. Even experienced designers have different strengths, weaknesses, and styles. There are web designers, UX designers, graphic designers, illustrators, typographers, motion designers, and many more. And although there are skills that can transfer between each type of designer, each skill set requires an extreme amount of time to become an expert.
Even an expert in a field might not work with your vision, or goals of your company, and if you find yourself in that situation, it's ok to part ways with your designer and seek out someone new. Designers want to make sure they're giving you what you need, and sometimes you just need to try a few before you find the perfect fit.
Learn through Experience
If it's your first time hiring a designer, sometimes you just have to learn what kinds of designers work for your company, and which ones won't, and you'll never know until you work with them. Have designers work on your website, design a brochure, or open your social media account. Work with them on creating typical designs for the company, new and exciting products being launched, and corporate initiatives. As you go, you'll each find what works, and what doesn't.
However, in the end, designers should be saving you time and money, while keeping your brand looking consistent and professional, in addition to making your brand stand out from the rest. Do you really think your computer-intelligent niece can do all of that? Probably not. Your design needs are more than likely very complex, and as such, you need a like-minded, professional designer who will take you and your business to the next level.
(Visited 274 times, 1 visits today)
Want to learn more?
If you want to learn more about specific key elements of an effective marketing plan, read our 50+ page booklet on How to Write A Strategic Marketing Plan That Yields ROI – complete with explanations
(Visited 414 times, 1 visits today)