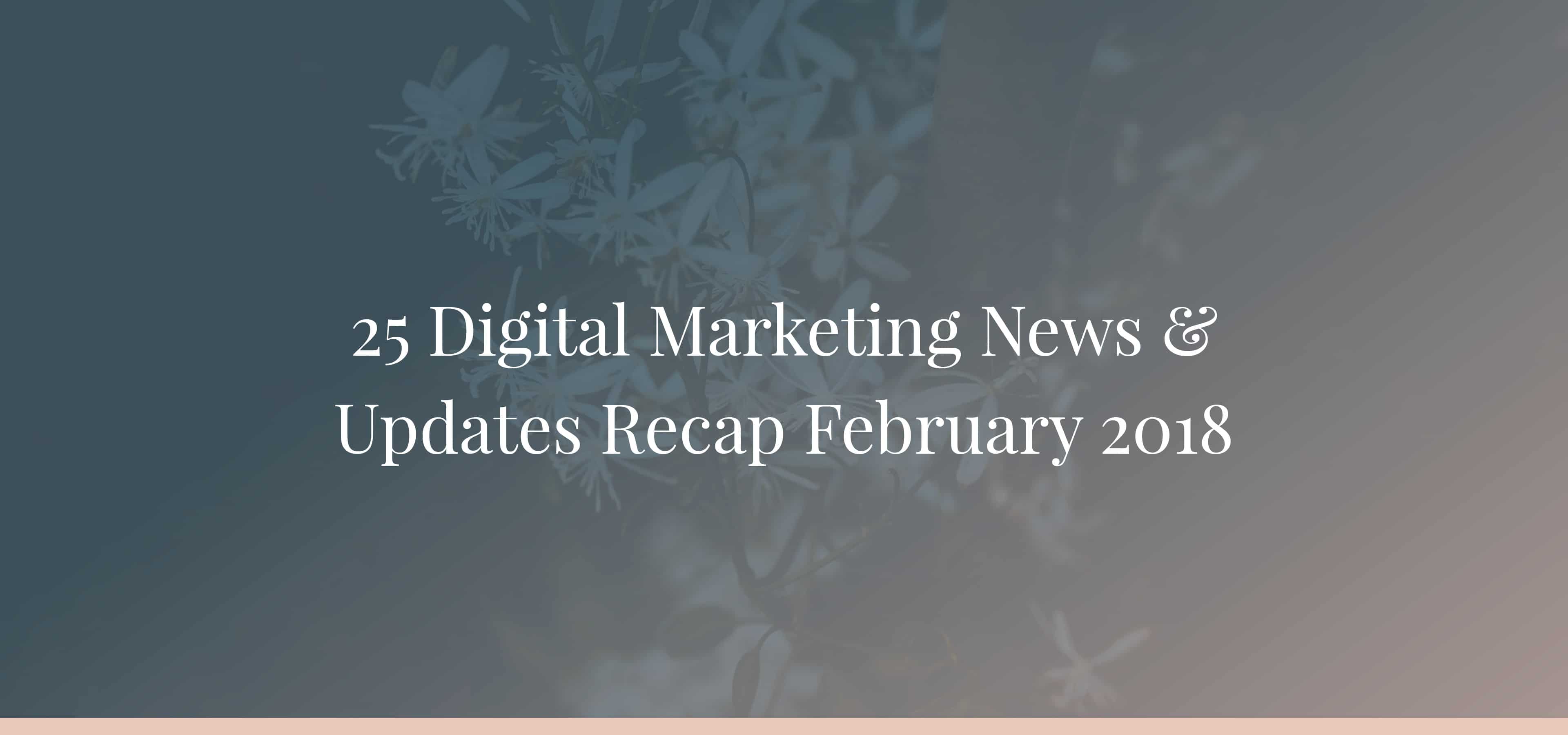 Here comes another digital marketing recap for February 2018.
This time, I tried to eliminate as many updates – with tears in my eyes – as possible that didn't have a direct impact on businesses. This coincidentally means I've cut down on some of the obvious function updates to keep it short. If you want to know more or less – just let me know.
It feels like each digital platform slowed down a bit this month, but there are still plenty of new things happening you won't want to miss. To read more updates from the few past months, visit our list of Digital Marketing Updates Recap posts. (They're awesome)
A Summary Of February 2018
This month, you might notice several AMP updates. These include Google launching their AMP Stories which look identical to Facebook and Instagram Stories, as well as an AMP for Gmail which lets you create dynamic email content and more.
According to Marketing Land, 31 million domains that are Google's ad network partners have adopted AMP, and they are earning three times more revenue per day. For those who don't know exactly what an AMP is, it's basically a super-fast-to-load mobile page. Since more and more people are demanding faster and quicker experiences on mobile, the AMP framework is playing a major role.
Speaking of Google, they've continued to focus their efforts on improving featured snippets to improve the user experience on Mobile and Voice devices as demonstrated by the launch of their comprehensive guide on featured snippets and the test of multifaceted featured snippet. They also never forget to update Google Assistant, the artificial intelligence behind Google Home.
For more sweet details, check out our updates below.
17 Google Updates in February, 2018
Google Ends third party e-commerce integration with Google Merchant Centre on March 20, 2018 – Jan 24
Google will end the integration of Google Merchants and third party e-commerce platforms including BigCommerce, Magento and PrestaShop on March 20, 2018. If you currently use this integration, you need to set up your shopping feed directly on Google Merchant.
Source:
Search Engine Land – Google dropping Merchant Center feed integrations with BigCommerce, Magento, PrestaShop
The Launch of Your Reminder Ads That Lets You Mute Remarketing ads – Jan 25
Since the launch of Mute This Ad in 2012, Google has seen millions of people using the functionality to silence ads on a daily basis. Along with the excessive demand to control ads users see, Google responded with their launch of Your Reminder Ads.
Reminder ads is Google's way of remarketing to consumers. Now, you can check who's remarketing to you and easily turn off any ads coming from that advertiser – as seen here:


Image: Google Blog – Greater control with new features in your Ads Settings
This update will roll out for Youtube, Gmail and search in the coming months.
Source: Google Blog – Greater control with new features in your Ads Settings
Google Bulletin: A New Platform for Hyperlocal Stories – Jan 26
As part of Google's local initiatives, they've launched a new platform where you can share and discover hyperlocal news – Google Bulletin. The app is only available in some states in the US as it traverses through a test launch.
Google stated that the content published on Google Bulletin will be discoverable through Google search and social media. This implies they may integrate the content from Google Bulletin into Rich card like the current Top Stories as seen here:

Along with 50 million Google Map Local Guides, I'd imagine they'll easily expand the user base. I'd recommend keeping an eye on Google Bulletin updates.
Source: Bulletin, from Google
Google's Comprehensive Featured Snippets Guide – Jan 30
Google launched the comprehensive guide for featured snippets. As I've mentioned in previous posts, 80% of answers provided through Google Home (Google Assistant), Google's voice device came from the snippet and Google has been testing fewer search results on mobile (2-5 results / top page).

Without a doubt, the featured snippets have become more and more important especially for voice and mobile search. I won't cover the detail on this post, but would recommend you take a look at the Google post.
Source: Google Post – A reintroduction to Google's featured snippets
Google Flights: Airline Delay Predictions Before The Airline Even Knows – Jan 31
Google Flights now can predict airline delays before the airline even knows (what?). Google Flights won't pull the delay information directly from the official airline, but rather use the historical data and machine learning algorithm to predict airline delays. I'm assuming they establish the probability based on weather, an aircraft arriving late, and so on. This will definitely help travelers.
Source: TechCrunch – Google Flights will now predict airline delays – before the airlines do
New SEO Audit category in Chrome's Lighthouse extension – Feb 5
Google added a new function – SEO Audits – to their Chrome's Lighthouse extension. It seems the SEO audit function only covers basic SEO audits like meta tags, HTTP status codes, robot text. It's not going to completely replace the existing SEO tools – yet!
Source: Google Webmaster Central Blog – Launching SEO Audit category in Lighthouse Chrome extension
AMP Stories Launch – Feb 13
Google has been trying to provide richer experiences and the launch of AMP Stories is definitely a huge step in that direction. The AMP Stories format as super fast to load as other AMP content and is more visually focused.
It looks similar to Facebook and Instagram Stories. In order to see how AMP Stories look visit g.co/ampstories on your mobile and type one of the publisher names like CNN, Mic., SB Nation, or Mashable (among others).
Source: Google Developers – AMP stories: Bringing visual storytelling to the open web
AMP for Gmail – Feb 13
Google launched another AMP initiative – AMP for Email – in order to provide better experiences on email.
With this AMP framework, email content becomes dynamic content and it will be a big help for certain situations like setting up meetings. Everyone's had experience with meaningless back and force emails just to find a time that works for both parties. Email campaigns will now provide richer experiences for receivers without leaving their inbox for more information – see below.


In order to get the access to AMP for Email, you need to sign up the Gmail Developer Preview of AMP for email.
Source: Google Blog – Bringing the power of AMP to Gmail
Removal of View Image Button From Google Image Search – Feb 15
Google removed the 'Visit Image' button on Google Image search. This helps Google prevent people from stealing copyright protected images. Google officially mentioned this move is related to a new partnership with gettyimages.
Today we're launching some changes on Google Images to help connect users and useful websites. This will include removing the View Image button. The Visit button remains, so users can see images in the context of the webpages they're on. pic.twitter.com/n76KUj4ioD

— Google SearchLiaison (@searchliaison) February 15, 2018
Source: Google SearchLiaison
Google Maps Mall Directory – Feb 19
Google now shows mall directories. You can navigate through the new tab 'Directory' when you search for local malls. With this update, you won't have to go to the mall website, which can be hard to navigate, to see what stores are in the mall from now on.
Source: Search Engine Land – Google Maps adds mall directory search & browse in local panel
The Change of The Fetch as Google Crawling Limit – Feb 19
Google changed the crawl limit for their crawling request tool, Fetch:
For the Crawl only this URL, 10 URLs / d will be the new limit for the replacement of 500 URLs / m (30 days)
For the Crawl this URL and its direct links,  2 requests / d will be the new limit for the replacement of 10 requests / m (30 days).
To find more information, visit their new help page.
Source: Search Engine Land – Google changes request recrawl limits, noting daily limits versus monthly quotas
Moving More Sites to Mobile-First Index – Feb 21
Google announced they'll keep rolling more sites to the mobile-first index over the next several weeks. If you're not ready yet, I'd recommend creating a responsive website at least. Find out more about the details on mobile-first index here.
Source: Search Engine Land – Google to move more sites to mobile-first index in coming weeks
New Adwords Keyword Planner – Feb 22
Google updated their Keyword Planner to be consistent with the new Google Adwords and Search Console design.
The new Keyword Planner breaks down into two functions: keyword discovery (Find new keywords), Keyword metrics & forecast (Get metrics and forecasts for your keywords)
In the keyword discovery section, you can see keyword ideas, keyword search volume trends, as well as the breakdown of searches including platform (mobile, tablet, desktop) and locations (city, municipality, province, territory).

There are two new columns: Organic impression share and Organic average position. In order to activate them, you'll need to link your Search console account with your Google Adwords account.
In the metrics & forecast section, now you'll see the campaign projections with key metrics. This includes clicks, impressions, cost, CTR and average CPC. You can project the number of clicks you get with certain amounts of CPC, which looks pretty similar to Facebook's ad performance projection.

Even though I feel the projections may be overestimating the metrics, this helps you get a better sense of how much it costs and how much you can expect in return.
Source: AdWords Keyword Planner update appears to be rolling out in the new interface
Function Updates on Google Assistant – Feb 23
Google keeps focusing their efforts on polishing up their voice intelligence, Google Assistant.
The updates include multilingual support, language expansion, and continuous function additions. including routines and location-based reminders.
They plan to make it available in 30 languages (up from 8) over 2018, which is a huge advantage over their competitors given Amazon's Alexa only speaks three languages and Apple's Siri speaks a modest 20.
To find more information on Google Assistant updates, check out these resources.
Source: TechCrunch – Google Assistant will support over 30 languages by year-end, become multilingual, Google Assistant is adding Routines and location-based reminders
Mobile Speed Scorecard and Impact Calculator – Feb 26
Google released a new tool, the mobile Speed Scorecard, which allows you to compare your mobile site speed with your competitors.

If you scroll down to the bottom, there's a calculator for the potential revenue impact based on your average monthly visitors, average order value, conversion rate, in order to illustrate how  page speed impacts your revenue. It seems like this tool won't detect the page speed for smaller websites like their new page speed insights which they launched in January.
Source: Google Inside Adwords – Introducing the mobile Speed Scorecard and Impact Calculator
Multifaceted Featured Snippets – Feb 28
Google updated the featured snippets to provide multiple featured snippets when a question or query is broad enough to have several interpretations.

f
Source: Google Blog – Providing more comprehensive results to your questions in Search
The Launch of Hangouts Chat – Feb 28
Google launched Hangouts Chat as part of G Suite. Simply put, it's a similar solution to Slack or any other work communication tools. Like Slack, this allows developers to build their own bots as well. What makes this different is the deep integrations with Google products like Google Calendar, Drive, Sheets, Docs and so forth. Secondly, the AI technology improves workplace communication with the @Meet bot which helps schedule meetings for multiple people without any hassle.
Source: TechCrunch – Hangouts Chat, Google's Slack competitor, comes out of beta
6 Facebook Updates in February, 2018
News Feed FYI: More Local News on Facebook – Jan 29
Another update for your Facebook News Feed: Facebook is increasing visibility for local news on the News Feed. Mark Zuckerberg, Facebook's CEO, announced the platform will show more stories from news sources in the user's local town or city.
Facebook stated small news outlets may benefit from this change more than other outlets since they tend to have concentrated readerships in one location. The following image will help you understand how it works:

They will test this update in the US first and expand to other countries over 2018.
Source: Facebook newsroom – News Feed FYI: More Local News on Facebook
New Ads Policy For Financial Product and Services Ads – Jan 30
Facebook updated their ads policy to ban financial products which are frequently associated with deceptive promotion practices. This includes binary options, initial coin offerings, and cryptocurrency.
Source: Facebook Business – New Ads Policy: Improving Integrity and Security of Financial Product and Services Ads
Updates on Organic Reach Metrics – Feb 9
Previously, Facebook counted organic reach (not paid) based on how many times Facebook delivered your ad. However, this indicator doesn't necessarily show how many times your ads showed up on a user's screen. With this update, Facebook will start displaying stricter definitions of organic reach, meaning only indicating how many times your ads appeared on the users' screen.
Facebook will continue showing organic reach calculated by the previous definition. You may see drops in organic reach with this new definition, but there's nothing to worry about.
Source: Facebook Business – Improving Page Insights to Help Businesses Understand the Results that Matter Most
Interactive 3D models in News Feed – Feb 20
Facebook rolled out their official support for 3D posts. Now, creators can create and share interactive 3D content on Facebook.
One of the easiest ways to create 3D content is Sony's 3D Creator app through the Xperia XZ1 phone.
While leveraging the 3D format is no easy task, it holds the potential of providing richer experiences for fashion and retail industries down the line.
Source: Facebook for Developers – Richer 3D Posts on Facebook and New Ways to Share
Cleaning Up Redundant Metrics in Facebook Advertising Platform – Feb 22
To clean up advertisers' confusion regarding ad metrics, Facebook will remove unnecessary and redundant metrics from Ads Manager and add clarification on each ad metric including how it's calculated and how you should use it.
You can see the full list of the 20 metrics that they will remove here.
Source: Facebook Business – Making Ad Metrics Clearer
Expanding The Job Post to 40 Countries – Feb 28
Having launched 'job post' in the US and Canada last year, Facebook decided to open it up to a whopping 40 countries.
Like TechCrunch pointed out, it seems job posting is mostly used by businesses looking for blue collar jobs like cleaning staff and drivers. This may cultivate the type of job market that's not the right fit for – say – LinkedIn.
Source: Facebook newsroom – Helping People Find Jobs and Local Businesses Hire
2 Instagram Updates in February, 2018
New Instagram API To Better Manage Instagram – Jan 30
Instagram launched their new API called Graph API to replace their old API called The Instagram API Platform. It will be easier for businesses to manage their Instagram along with new features which include post schedule, mention monitoring, and more.
If you are using the old API, they've laid out the timeline in terms of when they will end which function on their post. I'd recommend you check it out.
Source: Facebook for developers – Instagram Graph API Launches and Instagram API Platform Deprecation
Test Launch of Collection Ads On Instagram – Feb 7
Instagram started testing Collection Ad format on the Instagram feed, originally launched on Facebook.
Unfortunately, the new ad format is only available for limited advertisers, but it will be available to everyone soon.
Source: Ad Age – Instagram Gives Brands New Way to Sell In 'Collection' Ads
(Visited 937 times, 1 visits today)
Want to learn more?
If you want to learn more about specific key elements of an effective marketing plan, read our 50+ page booklet on How to Write A Strategic Marketing Plan That Yields ROI – complete with explanations
(Visited 414 times, 1 visits today)