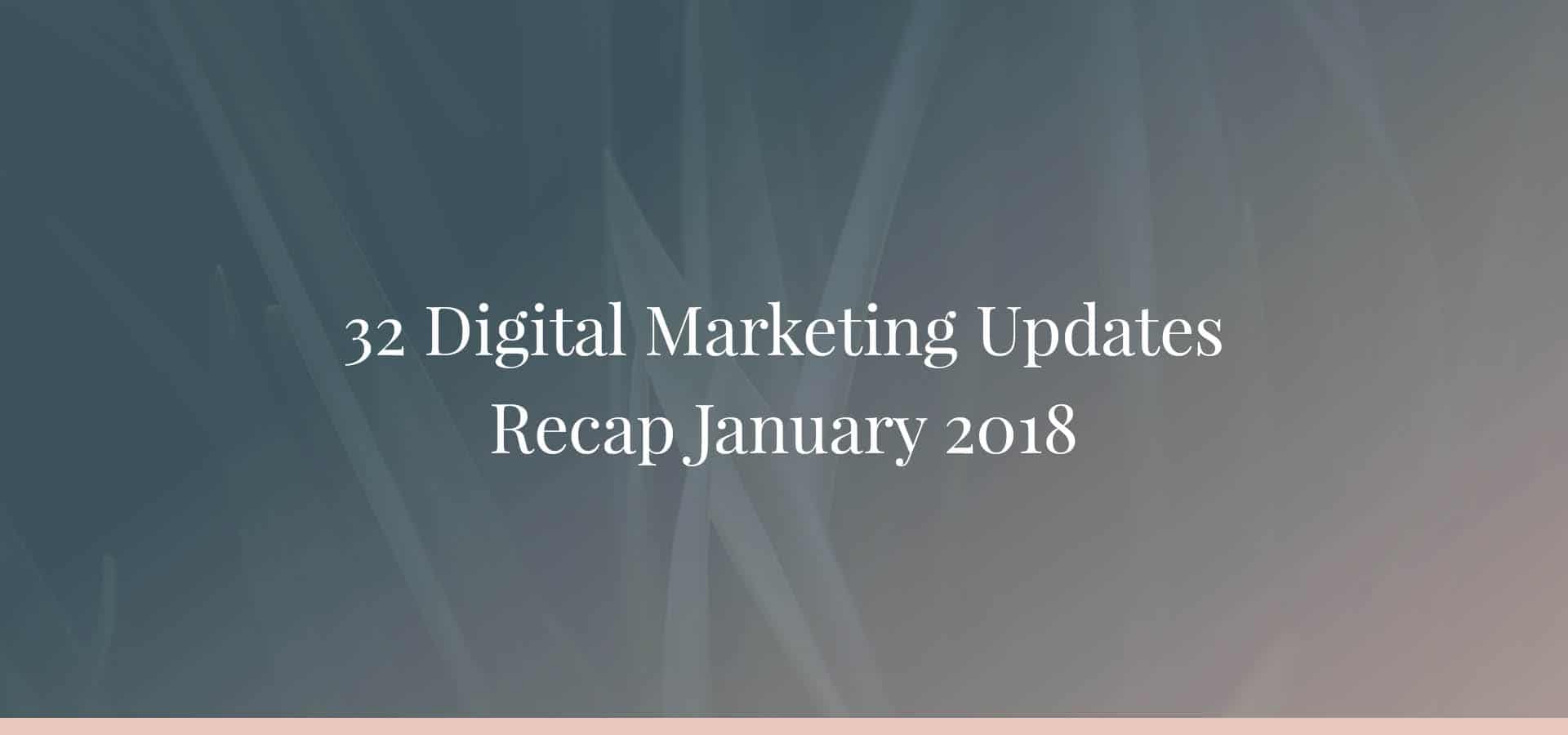 A belated Happy New Year! Here comes another digital marketing updates recap for January 2018.
As always, Google and Facebook are aggressively updating their platforms. The two goliaths account for more than 85% of updates listed in this post! Besides them, we've covered massive regulation changes in the US: net neutrality repeal and continuing law enforcement in Europe.

While the number of updates in this list has decreased, there are a lot of new things happening you won't want to miss. To read about more updates from the few past months, visit our list of Digital Marketing Updates Recap posts.
A Summary of January 2018
The major changes I've noticed are a number of Facebook News Feed updates, including a video content algorithm change, Engagement Bait penalization, encouraging back-and-forth conversation on users' News Feed, and more.
When you take a look at Google, there aren't as many drastic changes as say Facebook, but they have confirmed the launch date for Google Chrome ad-blocking. Throughout this month, it seems that Google's moves were focused on improving digital ad experience overall, as shown by the ad-blocking launch in the hopes that it preserves digital ad revenue from 'Good' digital ads. On a personal note, we've included an interesting voice search ranking report from ROAST — it's worth having a look.
Last, but definitely not least, is the net neutrality repeal by FCC. It happened a month ago, but it's good to catch up. Even though there haven't been noticeable impacts yet, there certainly will be. We've recapped how it works and how it could impact Canadian businesses.
For the details, check out our updates below. I've put together the important ones (meaning important important) up front and the less important ones further down.
4 Important Facebook Updates In January 2018
News Feed Algorithm Updates On Video Content – Dec 14
There are two updates to the algorithm for video content on Facebook's News Feed that Facebook announced: 1) Intent, 2) Repeat Viewership.
When your video is proactively seeked out on Facebook, for example, people search for your video on Facebook's search bar or visit your profile page just to see your video, it will boost visibility on the News Feed. Also, if your friends or followers repeatedly watch your video, it will get your video greater distribution on the News Feed.
Source: News Feed FYI: For Video, Intent and Repeat Viewership Matter
Penalizing Engagement Bait On Facebook's News Feed – Dec 18
Facebook finally took action on Engagement Bait that encourages more people to engage on posts in hopes they get greater organic reach by saying something like "Like (or share, comment, tag) this post if you are ______".


Image: News Feed FYI: Fighting Engagement Bait on Facebook
Posts that use these tactics will be less shown on the News Feed. If a page repeatedly uses this tactic, page level demotion will be applied to the page for several weeks as well.
Source: News Feed FYI: Fighting Engagement Bait on Facebook
Two Way Conversation Matter On News Feed – Jan 11
Facebook announced they changed the algorithm to bring people closer together. With this update, they will show more posts that encourage back-and-forth conversation and interaction. In the other words, likes, comments and shares over videos and blog posts. Mark Zuckerberg's Facebook post clearly states that:
With this change in mind, the focus of business pages needs to shift more towards conversation than content distribution albeit Engagement Bait is subject to penalty. Business pages may see a decline in their reach, video watch times, as well as traffic from Facebook. One thing to note is Facebook mentioned people often interact with public posts in Groups. If you really want to boost reach on your content, Facebook Groups may become the key.
Here's the video from Facebook to explain how its changed:

Source: News Feed FYI: Bringing People Closer Together
Facebook Shows News From Trusted Sources – Jan 19
Facebook announced another major update for news content on the News Feed. Even though Facebook has discounted the reach of public content, including news, they still want users to interact with trustworthy news content, accounting for as much as 4% of the News Feed overall.
Here are three major signals they will use for the news content algorithm:
Trustworthy: they surveyed various groups of people on Facebook about the familiarity and trust of each publication.
Informative: as they announced in 2016, they consider posts that 1) people from Feed Quality Program rate as High, 2) are related to people's interest, demographic and highly connected with publications, 3) are engaging a broader group of people to be informative.
Local: they prioritize local news… That's it.
They will start this change in the US first and will roll out in other countries accordingly.
Source: News Feed FYI: Helping Ensure News on Facebook Is From Trusted Sources
7 Important Google Updates In January 2018
Finally Negative Reviews From Former Employees Are Against The Google Guideline – Dec 14
Previously, Google review policies didn't allow businesses to remove negative reviews made by former employees. Google has now added this as a violation item under Conflict of Interest. You now can remove negative reviews by reporting them to Google. See the updated guidelines here.
Source: Prohibited and Restricted Content
Google Confirms Ad-blocking in Chrome will start February 15 – Dec 19
Google has confirmed the launch date for their ad blocking tool on Google Chrome:  February 15, 2018. Given that Google Chrome holds 58.8% of browser market share according to W3C, the impact will be significant.
Don't freak out. Not all ads will be blocked; only ones that don't comply with their guidelines. In other words, annoying or intrusive ads. You can see what they're considering to be annoying here:
Bad Ads on Mobile



Source: Creating better ad experiences for everyone
Bad Ads on Desktop



Source: Creating better ad experiences for everyone
Google also provided a new tool called Ad Experience Report for website owners to see which ads violate the guidelines. If the site owners don't fix the violations or keep producing violating ads, Google Chrome won't show any of the ads from the entire website.
Google has taken initiatives to regulate digital ads by distinguishing good and bad ads in the hopes they won't lose all ad revenue. As an advertiser, it's good news knowing that intrusive ads may harm the experience of other ads that happen to be placed on the same website in some way.
Source: Google will turn on native ad-blocking in Chrome on February 15
Video Uploads On Google My Business Dashboard – Jan 4
Google is testing a feature where business owners can upload videos to their local listings through Google My Business account.


Source: Google My Business dashboard showing video upload section for some business owners
Note: As of January 12, this video uploading function is available to every business owner, but people are experiencing a bug where the uploaded videos don't show up on local listings – find out more here.
New Google PageSpeed Insights Shows Real User Data – Jan 10
Google announced a new page speed tool that lets you analyze your page speed based on real user data. Now you see the new Speed score beside Optimization. The Speed score is calculated by two metrics: 1) First Contentful Paint (FCP), 2) DOM Content Loaded (DCL).
First Contentful Paint (FCP): FCP is the point when a browser renders the first bit of content from DOM, or showing the first content (text, image, SVG and so on) from the page.
DOM Content Loaded (DCL): DCL is the point when Javascript can safely start working after a browser fully parses a page.
Based on these metrics, the pagespeed tool shows your scores:
Fast: The median value of the metric is in the fastest third of all page loads.
Average: The median value of the metric is in the middle third of all page loads.
Slow: The median value of the metric is in the slowest third of all page loads.
With this update, you can see more practical metrics but the issue is this new speed insight requires a website to have a statistically significant amount of Chrome traffic and data to function. Find out more on the Google Developer page.
Source: Google PageSpeed Insights now uses real data from Chrome browser users
Page Speed Will Be a Ranking Factor in Mobile Search Starting July 2018 – Jan 17
Google announced that page speed will be a ranking factor in mobile search starting in July 2018. Site speed has been a ranking factor for desktop and hasn't mattered unless your website was extremely slow. With this update, site speed will affect the mobile ranking.
According to Google, this will only affect pages that provide the slowest site speed. It will only affect a small percentage of searches and it won't beat out quality content that greatly matches search intent.
It sounds like site speed still isn't super important yet, but it will affect site performance and impact things such as high bounce rates. You may need to pay more attention to your mobile site speed using Google's new site speed tool. And there are other tools that Google recommends to use including Chrome User Experience Report and Lighthouse.
Source: Using page speed in mobile search ranking
Voice Search Ranking Report Reveals 80% of Answers Coming From Rich Snippets – Jan 18
According to ROAST, when Google Home provided an answer, 80% of the answers came from Answer Box (Rich Snippet) – I knew it!


Image: Study: 80% of Google Home results come from snippets
ROAST also mentioned 2 notable things: 1) sometimes Google Assistant (Google Home) doesn't give you any answer or refers to a different domain, 2) Google My Business is key to local related searches.
Even though it's not yet clear how we should design SEM strategies for voice search, the research may give you a better sense of what to look out for.
Source: Study: 80% of Google Home results come from snippets
New Search Console Features For Everyone – Jan 22
As reported in our previous post, Google launched a beta version of their new Search Console, showing 12 months of historical search data and it's available to everyone.
Visit Google Search Console page (search.google.com/search-console) to find out more.
Source: New Google Search Console may be rolling out for everyone now
2 Important Updates For Other Digital Platforms
FCC Repeals Net Neutrality by Party Line Vote – Dec 14
You must have heard of the net neutrality repeal in the US. To see how it works, watch at the following video from Burger King:
Basically, this will break the internet's basic principle: 'all web traffic must be treated equally.' And now broadband providers such as Verizon, AT&T or Comcast can legally limit or slow down traffic to services they don't like. Or they can charge extra fees to businesses for fast lanes as seen in the Burger King video.
With this in mind, mostly small businesses who can't afford the fast lane will be the biggest victims of this net neutrality.
There may be impacts in Canada, even though Canadian broadband providers are against net neutrality repeal. For instance, if your business targets US customers, chances are broadband providers in the US may charge you to bring your content to US customers on the fast lane.
Source: What the U.S. net-neutrality repeal means for Americans and Canadians
WhatsApp Officially Launches App Profiles for Businesses – Jan 18
WhatsApp launched WhatsApp Business which helps businesses connect with customers. This app is only available on Android in the US, the UK, Indonesia, Italy and Mexico. This will roll out around the world in the coming weeks, but its not clear when it will be available for the iPhone.
It offers basic features including Business Profiles, Messaging Tools which will allow you to answer frequently asked questions, Messaging Statistics, and so on.
It seems that Facebook finally made a move for WhatsApp monetization.
Source: Introducing the WhatsApp Business App
5 Facebook Updates In January 2018
Snooze Feature to Give You More Control Of Your News Feed – Dec 15
Facebook launched a new function: Snooze. It lets you temporarily unfollow your friend for 30 days. Facebook added this function to give you more control of your News Feed.
Source: News Feed FYI: Introducing Snooze to Give You More Control Of Your News Feed
Face Recognition Tech to Help Better Manage Your Identity On Facebook – Dec 19
Facebook launched a new tool that lets you better manage photos you're in by using face recognition technology. Through this update, you can detect photos on Facebook that you are not tagged in and receive notifications on them. Whether you tag yourself in the photo or leave it untagged is totally up to you.


Image: Managing Your Identity on Facebook with Face Recognition Technology
This feature is optional and you can easily turn it on and off by changing tag suggesting setting.
Source: Managing Your Identity on Facebook with Face Recognition Technology
New Tools to Prevent Harassment – Dec 19
Facebook added new features on Facebook Messenger to prevent unwanted messages and friend requests. Now you have an option to turn off conversations on Facebook Messenger and remove the conversation from your inbox.
Source: New Tools to Prevent Harassment
Removing 'Disputed' Label on Fake News – Dec 20
Facebook put a hold on labeling 'Disputed' on fake news content. According to Facebook, it turns out the red label helps establish a strong belief the content is true which is the opposite of their intention. Instead, they decided to showcase Related Articles under the suspect article in hopes this informs users with more context around the topic.
Source: News Feed FYI: Replacing Disputed Flags with Related Articles
Facebook's Age Targeting Option & Age-Discrimination Law – Dec 26
ProPublica and The New York Times pointed out that major companies including Amazon, Goldman Sachs and Verizon use age targeting options to run job recruitment campaigns which exclude certain age groups – this is against age-discrimination laws. As I mentioned last month, more targeting options on Facebook are being identified and more targeting options have been discontinued. While this target option hasn't been stopped yet, we might see more restrictions on age group targeting.
Source: Facebook could prevent age-discriminating job ads if it wanted to
12 Google Updates In January 2018
Google's Advice For The Mobile-First Index – Dec 18
Google announced the launch of mobile-first index in October 2016, and they've gradually applied it to more sites that are ready for mobile-first index.
According to Google, you'll notice your sites have been moved to mobile-first index when you see, "significantly increased crawling by Smartphone Googlebot, and the snippets in the results, as well as the content on the Google cache pages, will be from the mobile version of the pages."
If your websites are responsive and don't hide valuable content on the mobile version, you'll be fine. However, if you still separate URLs for mobile from desktop (ie. https://m.yourdomain.com), you may have additional setups in the backend to make sure Google bot understands clearly. Things like canonical and alternate tags, you can find out more on this useful slide from our previous post or Google blog.
Separating URLs for desktop and mobile is becoming more unmanageable. If your websites are still separating URLS, now's the time to migrate to responsive.
Source: Getting your site ready for mobile-first indexing
Testing Images in Search Text Ads – Dec 18
According to Search Engine Land, Google search ads with an image were reported.
@GinnyMarvin @rustybrick landing page image pulled into an ad. New? pic.twitter.com/GkQBliAxEl

— Sergey Alakov (@sergey_alakov) December 16, 2017
It seems the image on the right of the description is pulled from the landing page. If this change is implemented, Google search ads will look more like social media ads.
Source: Google is testing images in search text ads
New Rich Results Testing Tool – Dec 19
Google launched a new structured data testing tool that is a more accurate reflection of the appearance on search results. You can test all data sources including JSON-LD, Microdata or RDFa.
Source: Introducing Rich Results & the Rich Results Testing Tool
Mid-December Search Ranking Algorithm Updates – Dec 20
There were massive fluctuations in search ranking in mid-December, Google has confirmed it. As usual, they didn't (or couldn't) specify why. One thing of note is there were several improvements made during this time period.
There are lots of opinions about the update. Some say it was Fred related updates that ceased the ranking of sites which contain thin or low value content. Others say it was targeting massive sets of  keyword permutations for ecommerce, travel and review sites like having pages for "service offer A + location 1", "service offer B + location 1" and so on.
Source: Google confirms mid-December search ranking algorithm updates
New Search Results Test Showcases Google Express in Mobile Search Results – Dec 29
Google is getting ready to fight against Amazon by partnering with large retailers including Walmart, Target, Costco and so on.
Now Google is testing new features:
1) "Get it with Google Express" promotion
2) Google Express label in shopping carousel


Image: New test prominently showcases Google Express in mobile search results
According to Search Engine Land, the test is quite limited but it can be seen on mobile in the US.
Source: New test prominently showcases Google Express in mobile search results
New Search Quality Raters Guidelines for Google Assistant and Voice Search Evaluations – Jan 2
Google published some of their Google Assistant guidelines to help raters better evaluate quality, specifically for Google Assistant. It consists of:
Information Satisfaction: assessing if the answer meets the information needed
Length: keeping the answers neither too little or too long. Unlike answers on screen, long answers will tire users because they can't scan it.
Formulation: ensuring grammatical correctness.
Elocution: using proper pronunciation and talking rhythm to easily understand
Source: Evaluation of Speech for the Google Assistant
Google Pay: Consolidation of Different Payment Platforms – Jan 8
Google announced Google Pay to consolidate all the different ways to make a payment with Google including Android Pay (mobile payment platform) and Google Wallet (peer-to-peer payment app) into one brand.


Image: Bringing it all together with Google Pay
If you're a retailer, make sure you implement Google Pay into your service – find out more on their solution site.
Source: Bringing it all together with Google Pay
A New Directory For Google Assistant and More… – Jan 8
Google launched a new directory page to showcase what Google Assistant is capable of so users can start using it for more than asking about the weather or their playing music.
Along with the update, Google announced a couple more notable features such as integration in Android Auto available on cars including Ford, GM, Nissan, Volkswagen and Volvo, as well as integration on smart TVs and headphones.
Source: New devices and more: what's in store for the Google Assistant this year
Deletion of Review Extensions On Google Adwords – Jan 10
Google has deleted Review extensions from Google Adwords where you showcase third-party reviews in Google ads. The historical data will be stored by February 2018. If you want to save it, you'll need to download it before then.
Source: Google is sunsetting AdWords Review extensions
Controversial Google's Art Selfie – Jan 15
Google launched their art selfie feature on the Google's Arts & Culture app.
Though this new feature went viral, it's been controversial. They discovered that people of colour have a relatively limited pool of artwork to match with their faces.
*usng the @Google Culture and Arts app*
white people: "Wow what beautiful renaissance/impressionist/european painting do I look like?
me: "Wow what racist stereotype of black people do I look like?"

— jimmyNUDEtron (@liluzi_girth) January 12, 2018
Source: Why inclusion in the Google Arts & Culture selfie feature matters
Google & Salesforce's First Elements of Partnership – Jan 17
Google and Salesforce announced the integration of Google Analytics 360 and Salesforce in November 2017 and it's finally available. You can import sales pipeline data from Sales Cloud into Analytics 360.
This gives more visibility from first contact (site visit) to sales within a single dashboard.
Source: Integration of Salesforce Sales Cloud to Google Analytics 360 is now available
Google AdSense Adds Style Automation for Native In-feed Ads – Jan 23
Google launched AdSense Native In-feed Ads last year and now they're offering an option to use Google's machine learning for the In-feed Ads.


Image: Introducing AdSense Native ads
Source: Let machine learning create your In-feed ads
2 Updates For Other Digital Platforms
Social Networks Face Huge Fines in Germany for Not Removing Illegal Content Within 24 Hours – Jan 2
Germany started rolling NetzDG law which targets publishers and social media with more than 2 million registered users in Germany (Facebook, Youtube and Twitter). This law was designed to combat hate speech, fake news, and illegal content. Site owners have to remove the illegal content within 24 hours after the content is reported as a violation.
Source: Social networks to face huge fines in Germany for not removing 'illegal content' in 24 hours
A Tougher Rule For Monetization on Youtube – Jan 16
Google announced 3 significant rules for monetization on Youtube. The biggest change is you need to have 1,000 subscribers and 400 hours of watch time over the past 12 months to start showing ads. This change will be in place beginning February 20, 2018. If you are interested, find out about other updates here.
Source: A New Approach to YouTube Monetization
That's all for this month. See you next month 😉
(Visited 743 times, 1 visits today)
Want to learn more?
If you want to learn more about specific key elements of an effective marketing plan, read our 50+ page booklet on How to Write A Strategic Marketing Plan That Yields ROI – complete with explanations
(Visited 414 times, 1 visits today)