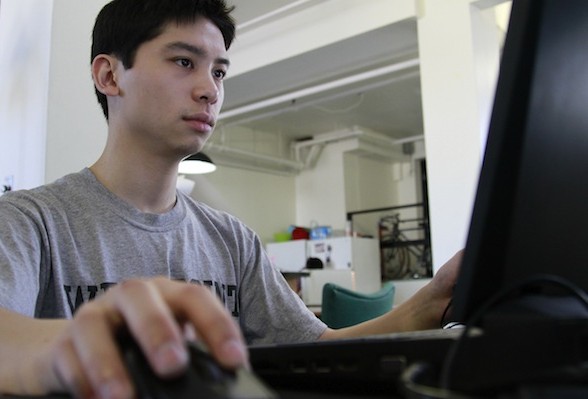 Ian, working as though a giant camera isn't pointed at his face

In addition to adding Jacob last month, we also added the rock-climbin', web developin', and Settlers-of-Catan-winnin', Ian Lee. He was a good sport and (reluctantly) answered a couple of our questions today.

WE'VE LEARNED THAT YOU'RE A BIG GAMER. WHAT DO YOU GENERALLY PLAY?

I used to play a lot of RPGs, MMOs and action RPGs, but I've now since come to enjoy League of Legends as well as strategic board games for the majority of my gaming. As a side note, I've probably spent almost equal amounts of time reading about these games as I've spent playing them.

WHAT GETS YOU MOST EXCITED ABOUT WEB DEVELOPMENT?

I'll liken web development to a good RPG or MMO. You start off small, weak and sport limited skills and equipment. As you progress, you gain new skills, find new weapons and generally improve your ability to do what needs being done. At the end of the day, you can look at how much progress you've made on your character/website that day and then be excited for what you'll accomplish the next.

DESCRIBE YOUR FIRST COUPLE WEEKS AT MY LOUD SPEAKER

My first couple weeks at MLS have been great. Everyone is awesome and its been really easy to fit in. Overall its been really enjoyable… the occasional round of board games after work helps.

Want to learn more?

For a complimentary Website White Paper that includes key components every website should have including tricks of the trade and upcoming website trends, fill out the form below.