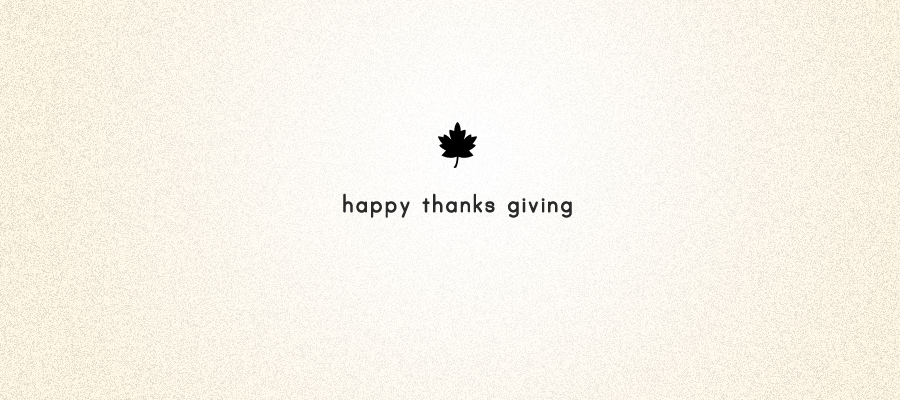 At the beginning of every week, our team kicks off Mondays with a Weekly Meeting. At the end of these meetings, each of us must "check out" of the meeting by telling the team one thing that they're grateful for. Of the list of 50 or so things that each team member has mentioned this past year, each has chosen one or two to be featured in this blog post.
We hope you enjoy it! Happy Thanksgiving, Canada!
ANA IS GRATEFUL FOR…
…the movie theatre experience. There's something about walking into a movie theatre and settling down in your seat. Lights go down, everyone goes quiet and the big screen lights up. Suddenly I'm immersed in a world of formula one racing and I've forgotten all about my work week. Films have always been my quick and cheap "get-away weekend". I appreciate how great story tellers and makers can come together and make such an experience for a person. Films are becoming more and more ground breaking everyday. Which, hopefully means my "get-away weekends" can only get better.
JON IS GRATEFUL FOR…
My Family: Because I learned everything from them. To be respectful of other people's beliefs and values as long as they don't harm me or others. To always share because when you have a family full of boys, fighting is always futile. And most importantly, to work smart and hard because – in this day and age – it's not enough to just work hard.

Theatre: Because it taught me the valuable lesson of work-life balance. That your work does not and should not be your entire life. Taught me how to work harder, faster and smarter without having many resources.
MATT IS GRATEFUL FOR…
The little things; a good parking spot, customer service reps that smile, drivers that let me slide in front of them during traffic jams, friends and family that give me food, playful dogs, well-priced furniture, automatic doors, sour keys, Netflix, my favourite coat, air conditioning, and comfy couches.
SIMON IS GRATEFUL FOR…
Being an uncle. Recently, I have reached a point in my life where I am officially recognized – gasp – as an "uncle". It is a special one too, as my cousin and his wife in Florida just welcomed their first newborn child, Zoey — who happens to be the first member of the 4th generation of the Tse family (I say that at the risk of making Zoey sound like a brand new Apple product). This also means that my grandma has officially graduated to becoming a great-grandmother now, and oh boy – is it ever great to see her being so gleeful about the fact. Knowing that it doesn't happen very often, it is quite special to have four different generations together in the same family. The fact that my sister is also expecting her first early next year just makes it even better. So yes – I am an old uncle now, and I couldn't be more thankful.
TAMMY IS GRATEFUL FOR…
My work and my team. Similar to most people's experiences with life, I've run myself into the ground with work, family and personal responsibilities. It's easy to keep pushing and pushing and feeling like you can take on more, but the reality is we all have our limits. Recently, I burnt out after being paralyzed by the responsibilities and timelines I had to meet. It forced me to stop and ask my team for a week-long retreat in Whistler to clear my head. Long story short, for the first time in a couple years, I truly feel excited about our future. I started to realize that the stress and restlessness was eating away at my passion. I wasn't able to enjoy what I was doing because I wasn't pacing myself and coming up for air. I've promised myself to stop and look around me and be thankful for all that we've accomplished as a team. This journey has made me thankful that for the stories we've made in building this business. It's made me so grateful for the things that fell into place in a way that gave us the opportunity to love what we do.
(Visited 161 times, 1 visits today)
Want to learn more?
This 20+ page booklet will help pinpoint which phase of brand growth your organization is in, and which phase you'll need to go to next, until you ultimately build your brand its own tribe of ambassadors.
There are a few reasons why you might want to download this:
You want to know what it will take to build your brand its own tribe of ambassadors
You want to learn about the 4 phases Brand Growth
You want to pinpoint which phase your organization is at
If any of the reasons above resonate with you, download the booklet free by entering your information below.
Our hope is that, by the time you've completed this guide, you've learned about each of these topics, and will be ready to take your brand to the next phase.
(Visited 91 times, 1 visits today)