Branding can be an arduous, soul-searching, and highly philosophical process. And although it's a process filled with seemingly subjective decisions, we've noticed that companies that have a strong idea of their vision, mission, and values, tend to be able to build stronger brands.
Earlier this year, our friend Linda enlisted us with the task to develop her new consultancy's brand from the ground-up. It was a heady task, but because she had such strongly defined vision, mission, and values (VMVs), we were able to tackle it with a very clear approach – read our full case study results here.
Background
Linda's capabilities has brought her clients such as FedEx, Nokia, VISA and GM. Through working with all these global brands, she has always maintained a very collaborative and playful approach to her work. Her VMVs embodied this mix of playfulness and professionalism – and she used unique words and word combinations to define her VMV, which also expressed her strong attitude towards difficult problem solving and "hard thinking". Using her VMV and our knowledge of her capability and personality, we had a clear direction.
The Approach
We knew – above all else – we needed to combine Linda's robust professional identity with her playful nature. She thrived on "hard thinking work" and was energized by the activity of discovering answers behind muddled situations. We ended up on the concept of "clarity behind the chaos", with a touch of "playfulness", "thoughtfulness", and "professionalism".
The Name
Using the approach, we played around with oxymoronic words that conveyed both the idea of professional and high-level thinking, as well as playfulness and fun. After several ideas and revisits, Linda agreed on the name, "ponderpickle". The name is the perfect blend of thoughtfulness and exuberance that she enjoys so much. And – as an added bonus – it's incredibly memorable.
The Logo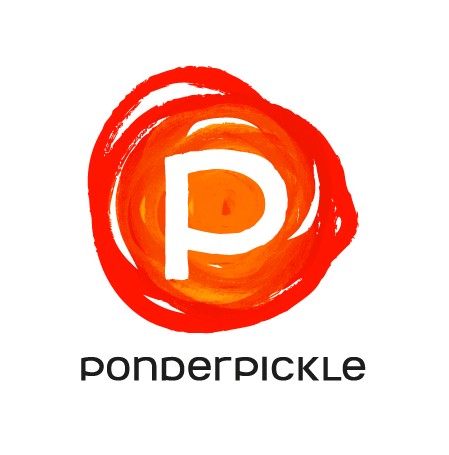 The concept of "clarity behind the chaos" as well the brand's playfulness heavily influenced the logo. The "P" that is carved out behind the paint/crayon-like messiness illustrates the "clarity" that is found beyond the muddled "chaos". Its texture is reminiscent of the idea of "play" and the activity involved in problem solving. Lastly, the typography of the word "ponderpickle" doesn't utilize any capital letters – another aspect that "plays" (pun intended) to nature of the brand.
The Copy
Linda's choice words and word combinations in her VMV really helped to define the copy for the rest of her branded material; whether it was the website, the business card, or the powerpoint documents.
Some notable examples:
"meaningfully magnificent"
"doers"
"unstuck"
In the end, we created unique and memorable "ponderpickle-esque" copy that resonated with the playful and imaginative side of the brand, whilst paying equal respect to the professional and problem-solving side.
An example of some of ponderpickle's website copy:
There's no way around it – organizational growth or transformation can be daunting. There's deep thinking required to tackle the situation. However, when we reveal your inner "Dreamer", and activate your inner "Doer", you'll be prepared to ride this exhilarating roller coaster.
The Design
Building off the approach and the strong design of the logo, we once again revisited the VMV to tackle the rest of the designs. Playing off the logo and playful nature of the brand, we focused on circular images rather than squares or rectangles, and we also implemented left-indented quotations on the website to accentuate the uniqueness of the brand. These brand idiosyncrasies are among many, and they work to complement the professionalism of the consultancy's content.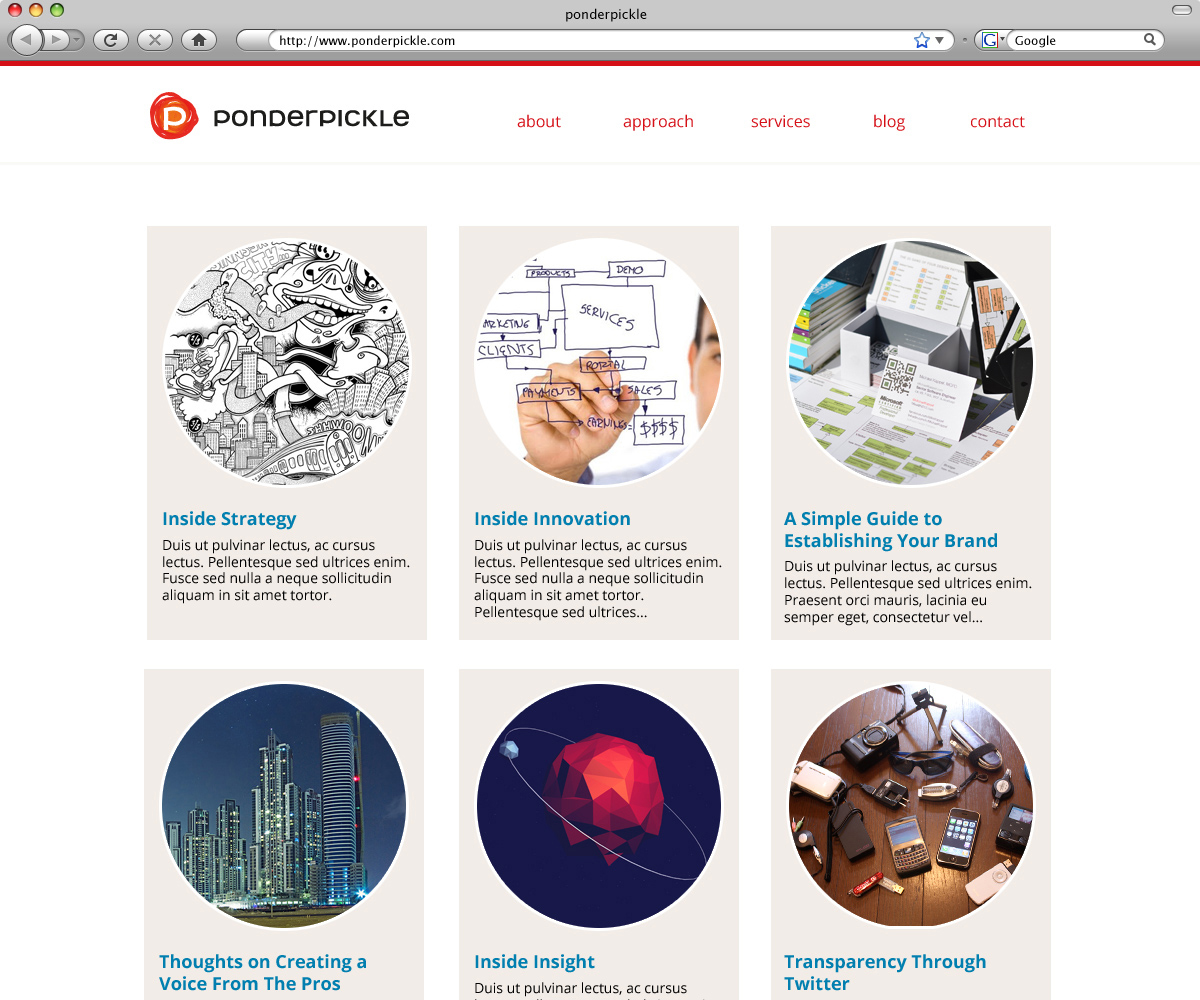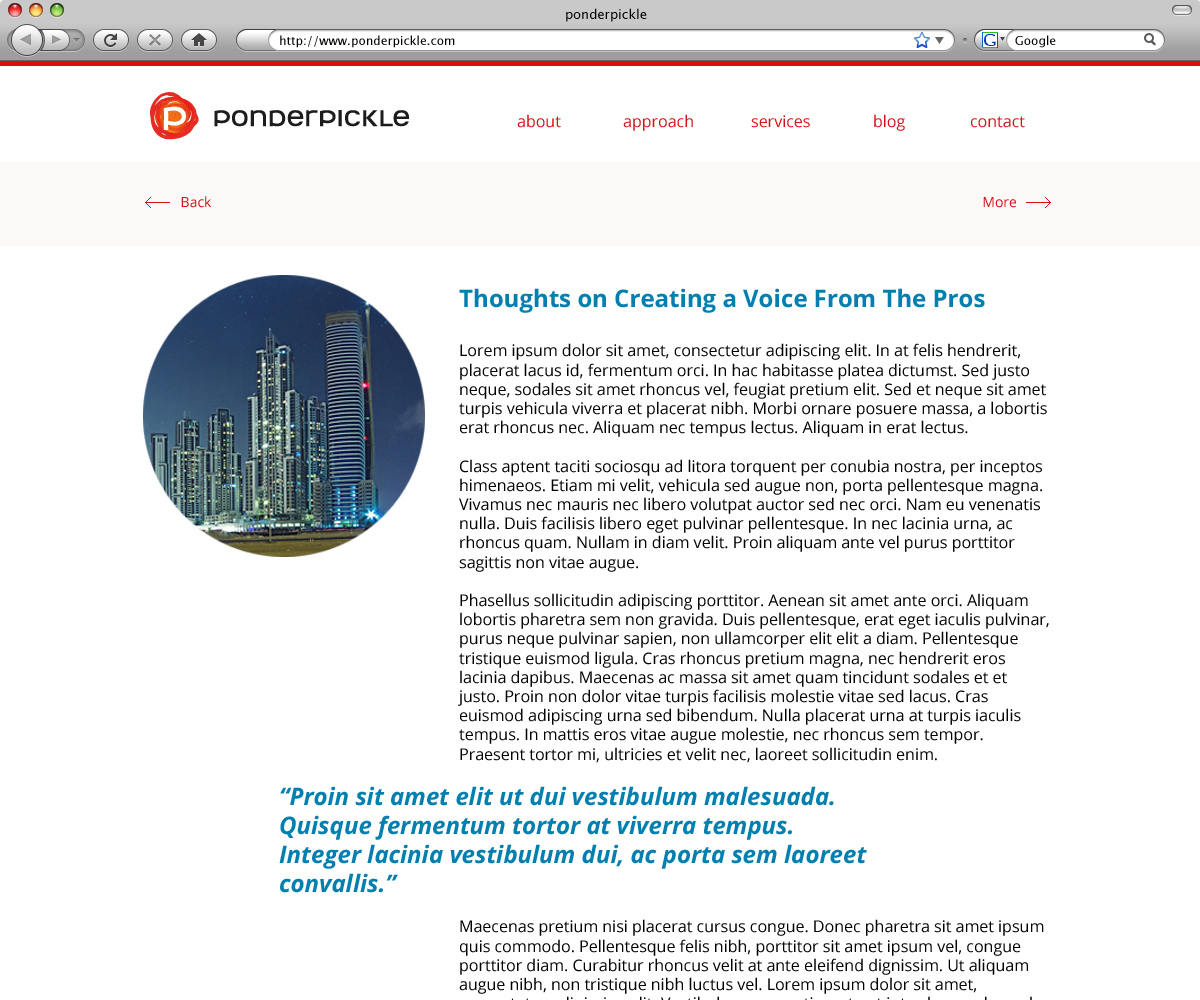 In the end…
We've received great feedback on the brand and its memorability. The name and the colours are unique and interesting, and they successfully encapsulate Linda's personality. You can learn more about Linda's company at www.ponderpickle.com
Some initial comments received about the branding and foundational tools:
The website looks very slick and professional. Already you have some interesting tweets.
I love your Logo
It's like a very hip California startup (tech. company) like – unique and creative.
ponderpickle!?!? Awesome! Love the name!
Congratulations! What an awesome name and website!
Great name. Very catchy and meaningful!
What a great concept, very nicely introduced and I love your visual identity!
Love the name!
I love your email and your web site – very clear message
So, what can you do with your brand?
Ensure that your organization has a clearly defined VMV. Before you start branding, communicating, or doing any real marketing, you need a VMV. Once this is established, you can:
Ensure that your VMV reflects the direction of how your organization works and who you hire
Display the essence of your VMV in your design and copy
Start creating programs/initiatives that support your VMV
Continually reinforce your VMV and identity
If you liked this article, please check out How To Build A Tribe Of Brand Followers and
our branding articles.
If you want to explore our past case studies, check out our marketing & branding case studies.
(Visited 342 times, 1 visits today)
Want to learn more?
If you want to learn more about specific key elements of an effective marketing plan, read our 50+ page booklet on How to Write A Strategic Marketing Plan That Yields ROI – complete with explanations
(Visited 414 times, 1 visits today)