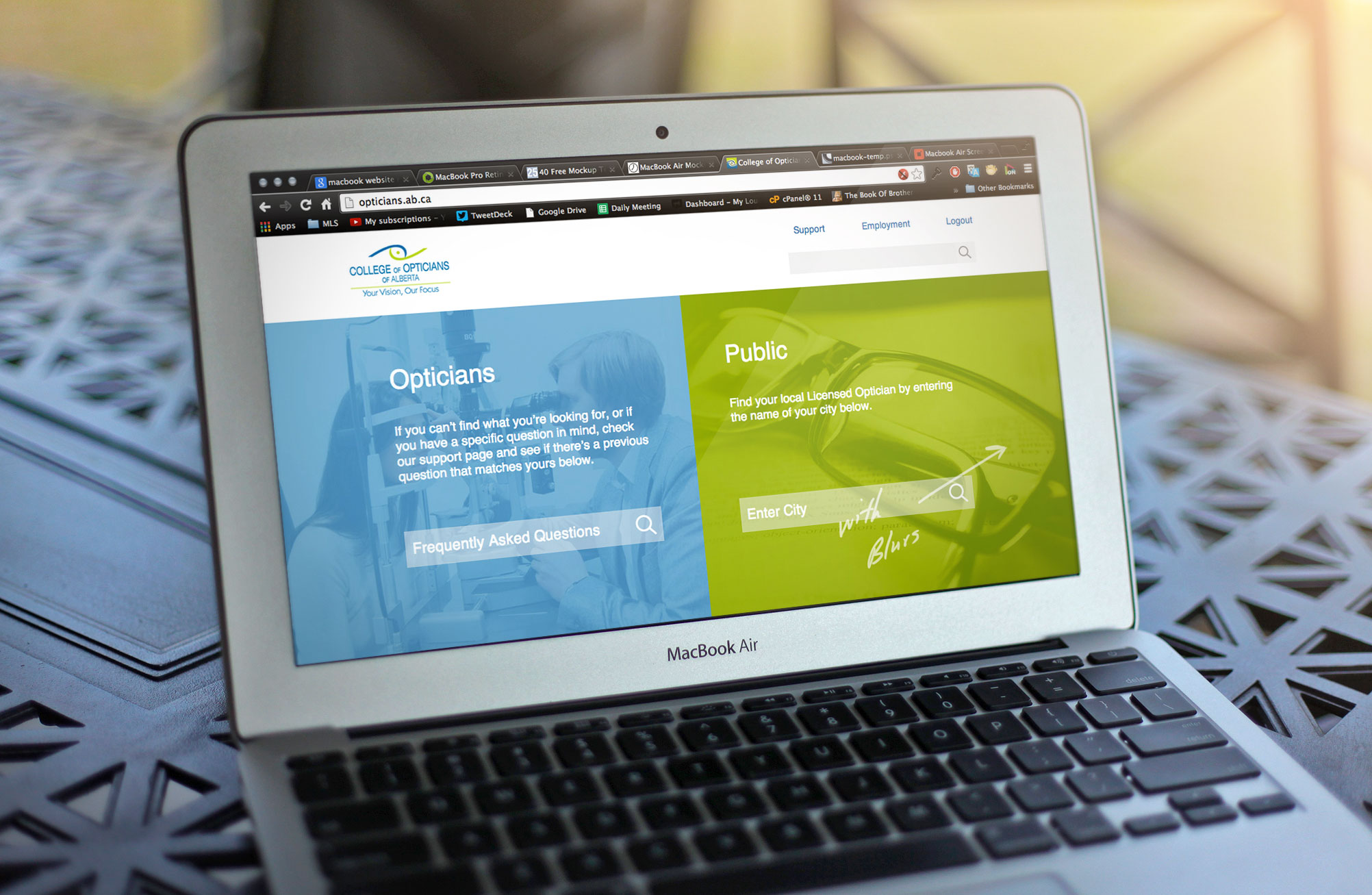 A website we developed for College of Opticians of Alberta: www.opticians.ab.ca

Recently, we worked with the College of Opticians of Alberta and the College of Opticians of British Columbia to improve their communication activities with their members. It's an important, but tricky game; you have to be empathetic to your audience in order to ensure they are actually processing the content you're delivering. Otherwise, you're merely forgotten among a hundred other messages they're receiving on a daily basis.

It's difficult to keep track of all the things your audience needs in order to stay attentive:

Content delivered on a platform they use
Content delivered in a frequent – but not too frequent – manner
Clear, concise written content
A brand voice that resonates with your audience
A good ratio of visuals to written content
Specific audience considerations ie: Intergenerational appeal
…and much more


As difficult as it is to keep track of, if you can get it right, your organization is one step closer to being a well-oiled machine.

Below are some of the improvements we made to resolve our client's issue:

A Customized Support Forum

Support forums are great for fostering a community with your audience. In our client's case, we realized that members were continually calling in with questions rather than utilizing the website. Creating a customized support forum gave our client the capability to answer frequently asked questions in a public space in order to clarify difficult questions or topics that are often repeated.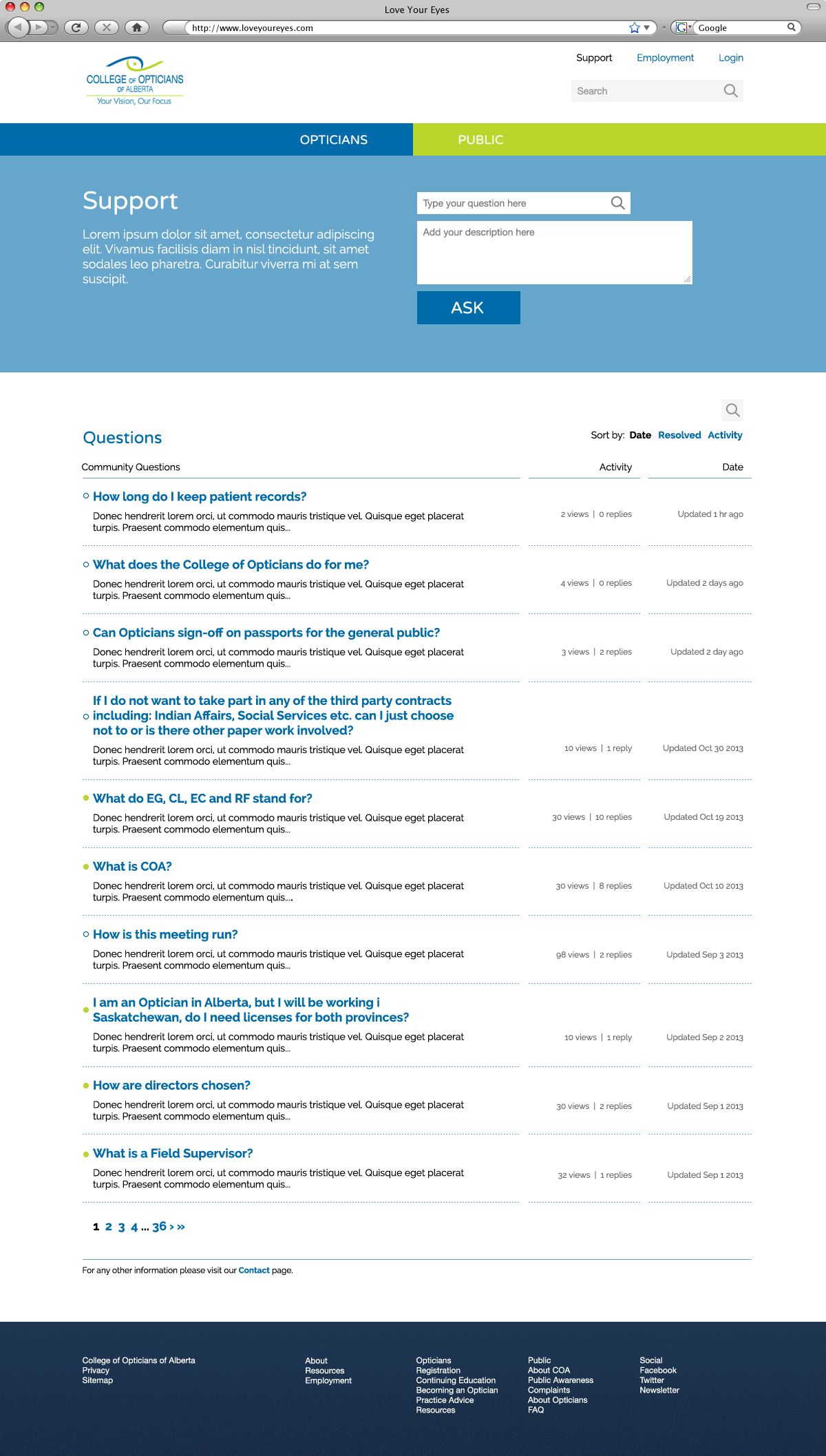 The ability to be anonymous or create a username, as well as moderator options and voting capabilities for best answers, gives both parties a platform to improve communications with each other in a safe environment.
Platform Availability
A common assumption by marketers that create social platforms like Facebook and Twitter for their brand is the absolute necessity to "use it or lose it". As in, if you aren't frequently updating the social platforms, they're not useful. As mentioned previously, managing these social platforms can be extremely time consuming, so if you know you don't have the time to manage it, why even create it in the first place?
Social media shouldn't be something you just 'manage', it should be a constant portal for brands to effectively and creatively communicate to their customers.
The answer is to find the purpose for the existence of that branded platform. In our client's case, they knew that they wouldn't have a lot of time to spare to frequently update their newly minted Facebook and Twitter channels, however, their goal wasn't about attaining new members, but rather just improving communications with current members. Thus, the focus on when creating the brand channels were to focus a majority of the time on monitoring the platforms and ensuring they were available for questions and comments.
Training
With all the new social digital platforms being created for the purpose of improving communication, communication issues are often caused by the lack of understanding for the platforms being used. If you're a brand and attempting to communicate with your audience on a specific platform, it is very important for you to understand that platform better (or at least, just as well) as your audience does. It gives you the ability to guide conversations and control the context of the platform, as well as avoid potentially embarrassing mishaps. We ensured our client was trained thoroughly on the platforms created, with supplemental plans, strategies, and manuals.
Training is an often overlooked service when it comes to improving communications. Many assume that – after the tools are given – the ride will be smooth. However, improving communications is a long-term process that includes building trust with your audience and proving to them that you are capable. By training our clients to become experts on their respective platforms, they have the capability to execute their strategies properly, and thus, build that trust with their audience.
These are just some of the approaches we took for this specific client, however, these items change depending on each organization. But no matter the case, if you improve your organization's communication efforts, you'll experience a myriad of benefits; you'll save time, increase engagement, and even improve your bottom line.
Read our College of Opticians Alberta Marketing Case Study results here.
If you want to explore our past case studies, check out our marketing & branding case studies.
(Visited 255 times, 1 visits today)
Want to learn more?
If you want to learn more about specific key elements of an effective marketing plan, read our 50+ page booklet on How to Write A Strategic Marketing Plan That Yields ROI – complete with explanations
(Visited 414 times, 1 visits today)