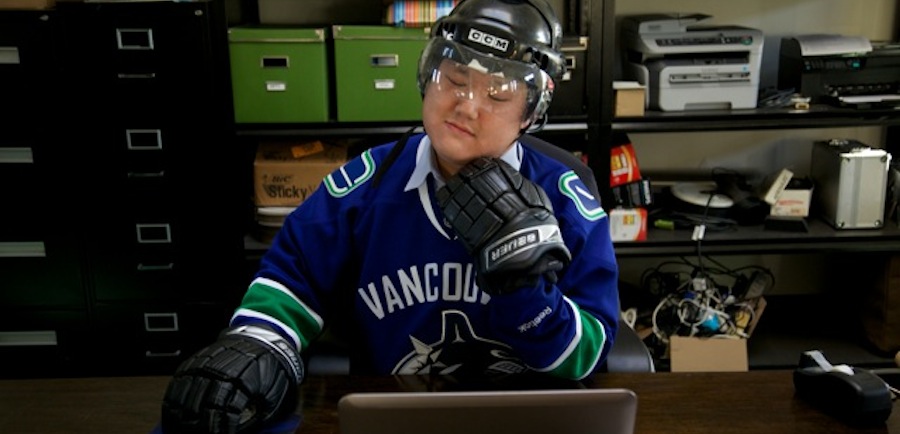 Simon's pretty stoked for the start of the NHL season

A couple of weeks ago, we added hockey-fanatic Simon Tse to the family. We armed ourselves with three questions in hopes of learning a little bit more about the new Social Media guy.

WE'VE LEARNED THAT YOU'RE A PRETTY DIEHARD HOCKEY FAN. WHO'S YOUR FAVOURITE TEAM AND WHY?

My favourite team is the Vancouver Canucks, because I long for a life of near-misses, agony and disappointments… In all seriousness though, I like the Canucks because I like their style-of-play — when they are on top of their game they are very up-tempo and very exciting to watch. They are also the local team, so it is hard not to cheer for them as well.

I also have a soft spot for the Montréal Canadiens during their amazing 2010 run when they beat the Capitals and Penguins in the same playoffs. I recognize that I sound a bit like a band-wagoner when I say that though, so I'll just stick with the Canucks.

WHAT GETS YOU MOST EXCITED ABOUT SOCIAL MEDIA?

Communicating and exchanging knowledge with people. I love interacting with people and social media is all about that. To quote a line from the movie The Social Network: "Bosnia: They don't have roads, but they have Facebook." It really shows how social media has shaped everyday interactions between people in all corners of the world. Even my parents — as old-fashioned as they are — are now using smartphones and social media. When used properly, social media can be a very powerful tool that helps bringing people and knowledge together.

In the past decade, it has gotten incredibly easy to communicate with people from all over the world. With just a click of a button I can find out what is going on in places I will never have access to — and I find that very exciting.

DESCRIBE YOUR FIRST COUPLE WEEKS AT MY LOUD SPEAKER

"Relaxing" is the first word that comes to mind when it comes to working here with the team at My Loud Speaker. Everyone is very welcoming here from the start, especially for a rookie like myself who doesn't have the same wealth of experience in marketing as they do. Despite all that, they are very receptive to my ideas and to see them being implemented at My Loud Speaker is brilliantly satisfying — it makes me feel very much part of the team. I feel right at home every time I step into the office, and that has certainly a lot to do with the positive open-minded culture we have here. Above all, they are also incredibly passionate for what they do and it is certainly growing on me too.

Oh, and there is also an in-house kitchen in the office. How can you top that?

(Visited 187 times, 1 visits today)

Want to learn more?

This 20+ page booklet will help pinpoint which phase of brand growth your organization is in, and which phase you'll need to go to next, until you ultimately build your brand its own tribe of ambassadors.

There are a few reasons why you might want to download this:
You want to know what it will take to build your brand its own tribe of ambassadors
You want to learn about the 4 phases Brand Growth
You want to pinpoint which phase your organization is at
If any of the reasons above resonate with you, download the booklet free by entering your information below.
Our hope is that, by the time you've completed this guide, you've learned about each of these topics, and will be ready to take your brand to the next phase.
(Visited 91 times, 1 visits today)