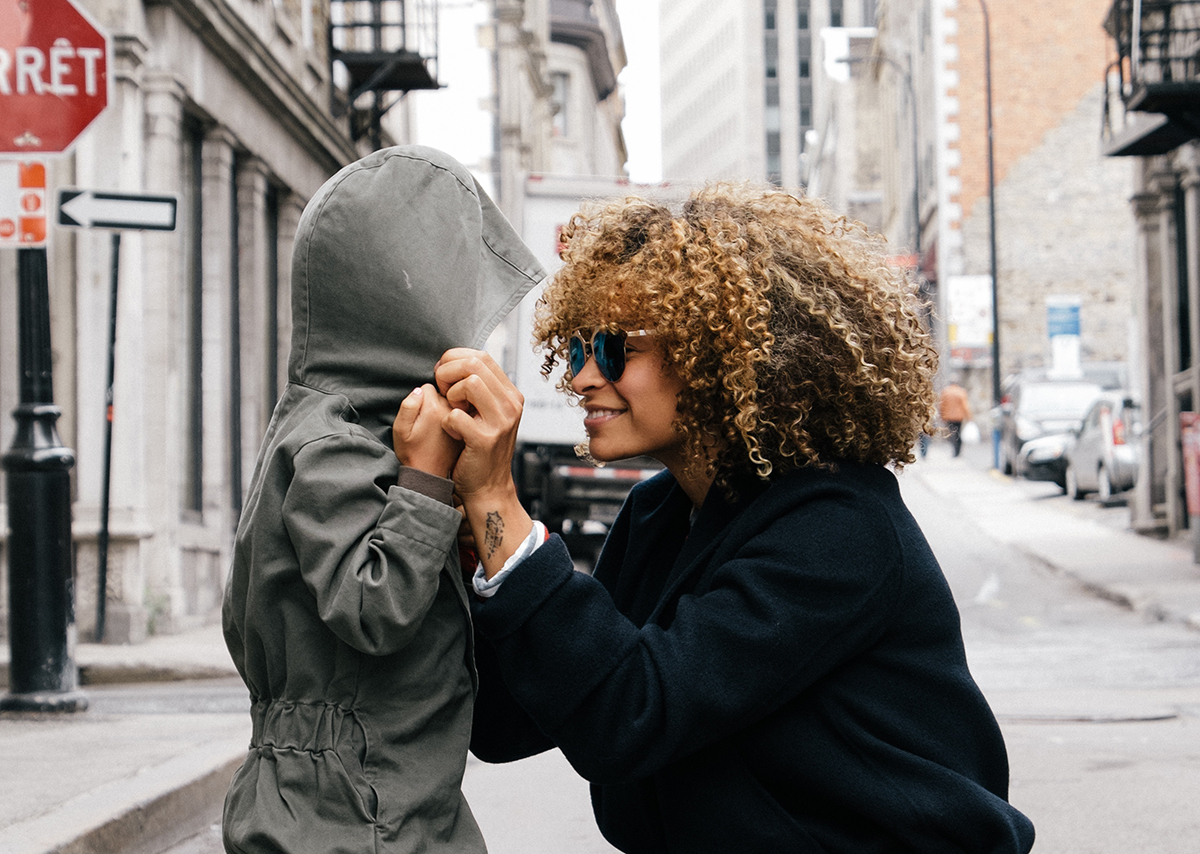 There are many female millennials travelling, consuming goal-driven media, experiencing career freedom, and closely relating to any of the characters in the HBO series GIRLS. But there's an even bigger percentage of them who are connected by one thing — they're moms.
Of the 1.5 million women who have become mothers in the past year, more than 85 per cent of them are millennials. Loosely defined as anyone born between 1980 and the early 2000s, millennials are now starting to outnumber the baby boomers as the largest living demographic. In point: they're now the world's largest consumer group.
MILLENNIAL MOMS ARE DOING IT ALL
Like all generations of mothers, millennial moms are trying to do it all at once. They're negotiating the fine balance of scheduling in meaningful family time while efficiently completing household chores and errands. Not to mention, working on their careers or running businesses.
The millennials are a generation divided between those who have nothing but time and those who need more of it. And, as economic circumstances are starting to look upwards, brands would do well to pay attention. Before marketers go on an all-out sales pitch to modern moms, there are a few things they need to understand about the demographic.
THEY'RE GROWING LIKE WILDFIRE
First, there are more of them listening than we know. Being neck-in-neck with the baby boom generation, millennials have the largest number of influencers and influencees when it comes to media consumption. Being anywhere from 15 to 35, millennial women are also in their reproductive stage. In fact, 85 per cent of all babies born in 2015 have been born to — surprise, surprise — millennial moms.
THEY'RE VALUES-DRIVEN
Unlike the "at-any-cost" corporate consumer culture of the 1980s (frozen dinners and fitness fads, anyone?), 2015 brings with it a sense of consumer awareness and responsibility. In other words, purchasers are now driven by their values. So, sure, they're going to take home some beauty products, but they're opting for the brand that promises to plant a tree with each purchase instead of going with the brand that offers the cheapest price point.

Source: Eminence Organics | Youtube
Figs, a medical scrubs company, does well with this unique selling proposition by donating a pair of scrubs to a healthcare provider in a developing country for every pair purchased on their site.
THEY'RE UP ON TECHNOLOGY
Finally — and this should be a no-brainer — millennial moms connect most with brands that get technology. Because the generation is more engaged on social media and technology than any group of 20- to 30-somethings ever before, brands need to keep up where millennials are consuming their media. Hint: it's roughly 5-inches long and 2-inches wide, and holds the entire internet.
Millennial moms average about 17.4 hours per week on social networks compared to 13.4 hours per week for total moms. They recommend products online more than 10 times a month, versus a little more than seven recommendations a month from moms in total.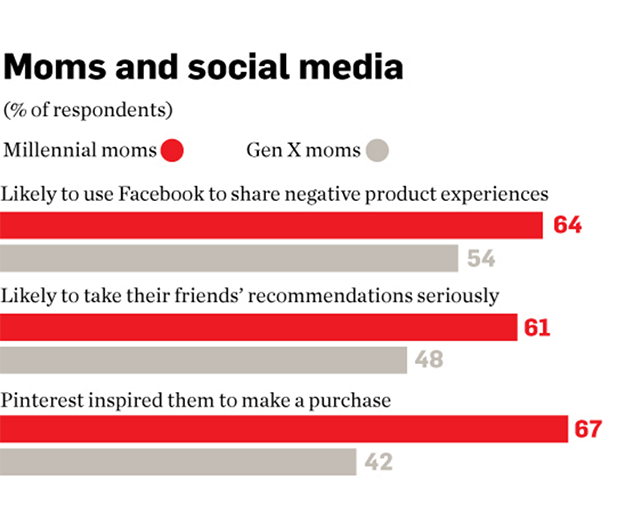 Source: Meredith's Parents Network, Millennial Moms & Media via Adweek | Infographic: Carlos Monteiro
It may or may not shock you to know that nearly half of millennials say text and social media have replaced talking to friends, while 52 per cent of them bring their tablets to bed with them.
THEY WANT TO MAXIMIZE TIME WITH THEIR FAMILIES
While it's true that millennials are more attracted to small business than corporate giants, the Starbucks mobile app did well among users for being tuned in with its audience's needs. Imagine you're a busy mom who doesn't want to wait in line to order coffee — voila, pre-ordering via mobile. Can't be bothered to root around in a diaper bag to pull out cash? Easy. Pay by flashing your mobile app; your phone is always on you anyway. If you're out pushing strollers with a fellow mom and want to know where you can duck in for a tea, well, the mobile app will tell you where the nearest Starbucks is.
To sum up, millennial moms are looking for brands that are conscientious and values-driven at core – see Tammy's Honest Marketing post, and that understand how to keep up with technology, such as Augmented Reality. Unlike their childless counterparts, millennial moms are looking to maximize time with their families.
Forty-two percent of moms born anywhere from 1980 to 1995 revealed they felt "most advertising and marketing isn't geared towards women like [them]." Perhaps it's because much marketing and advertising geared towards moms is aimed at making mom's life more efficient when, in fact, what they really want is more family time.
So, ask yourself if your brand can deliver on adding value to millennial moms' values, keep up with technology, and then see where your product or service can solve new moms' pain points.
Header Photo: London Scout via Unsplash.com
(Visited 775 times, 1 visits today)
Want to learn more?
If you want to learn more about specific key elements of an effective marketing plan, read our 50+ page booklet on How to Write A Strategic Marketing Plan That Yields ROI – complete with explanations
(Visited 414 times, 1 visits today)