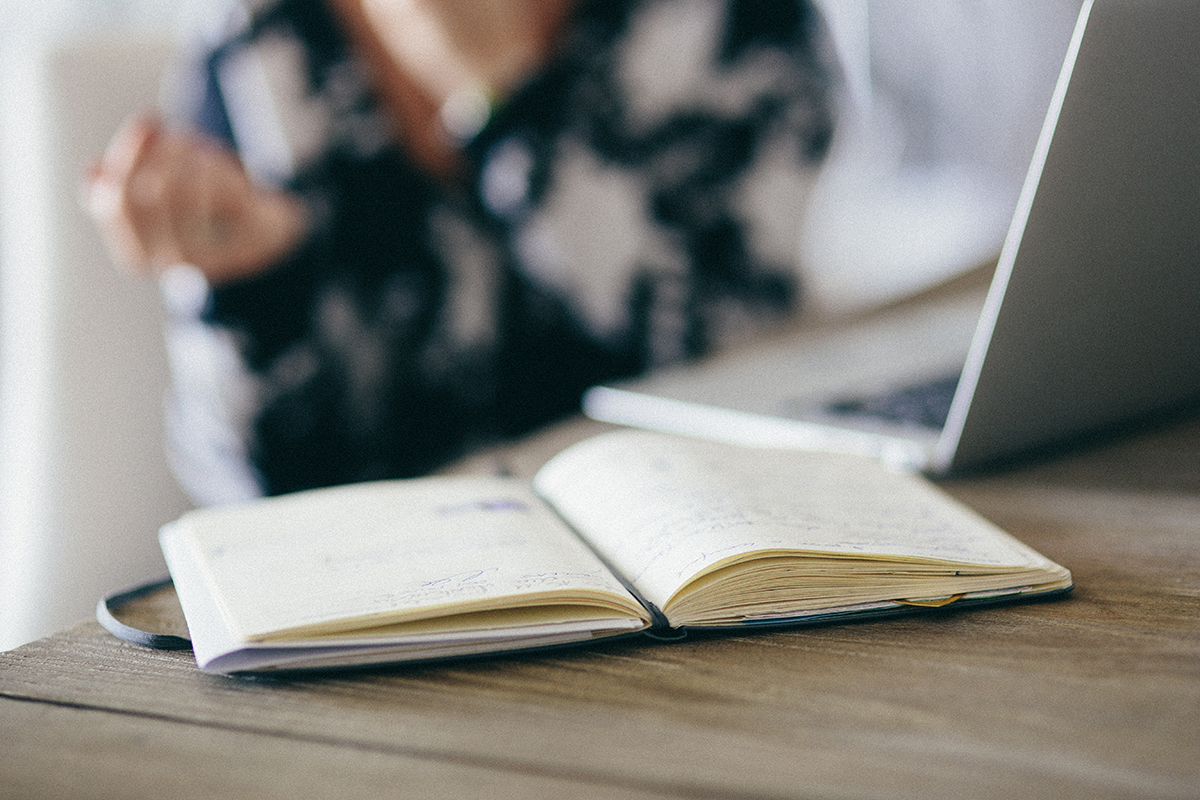 The Key To Killer SEO Keyword Practices For Business Blogs
Category:
SEO/SEM
If you're a business — small or large — with a website, congrats, you've upped your chances of getting your company a visit, a phone call, or a new client. Prospective clients should be able to reach you through the good old interweb, as anyone with a smartphone (2.6 billion people worldwide) knows a website is the new business card.
So, yeah, you can go ahead and recycle that rectangular piece of cardstock.
A website, however, does so much more than a traditional business card. It's not just a "let's keep in touch" memento. While you're establishing embassies through social media and online blog content, your website is the nation it all refers back to. And the way to get traffic through your embassies (in Internet speak: referrers) is to make sure your SEO (search engine optimization) marks the path to your site.
Check out our run-down on SEO Best Practices if you need a refresher.
ARE YOU THERE, BLOG? IT'S ME, A BUSINESS OWNER
You know having good SEO (search engine optimization) is important for your business, but here's your problem: you have no idea how to get site traffic from organic searches through a blog post.
You might wonder, "Do I have good blog SEO?" and "How important is making my blog SEO-friendly, really?"
For B2B businesses in particular, your blog's SEO presence matters immensely when considering 81 per cent of B2B purchase cycles start with a web search.
A blog is one of the strongest inbound marketing tools. According to a 2014 survey from hubspot, 84 per cent of inbound marketers cite organic sources (blogging, SEO, social media) as rising in importance.
On top of that, Freely.net reports that 90 per cent of buyers say when they are ready to buy, "they'll find you." So make it easy for them to find you, and buy from you. Your blog is one of the life-saving reflective vests in the expansive night that is the Google machine.
SOLVING YOUR BLOG-LEMMA
My Loud Speaker has some strategies that will help polish up your blog's SEO presence.
1. Decide your main target keywords
Main target keywords of Home Page and Blog Home
ie "marketing agency" on your home page
ie "marketing strategies" on your blog's home
Lower Competition & Higher Relevance (to your service or products)
Higher Competition & Higher Relevance (to your service or products)
Lower Competition & Lower Relevance (to your service or products)
Higher Competition & Lower Relevance (to your service or products)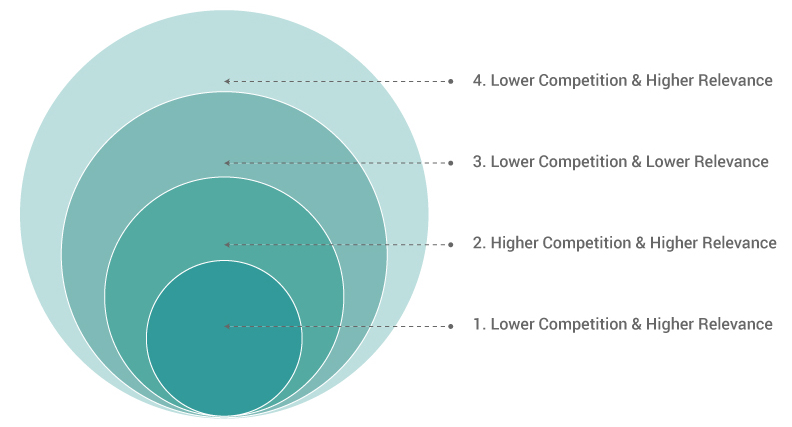 If you're an integrated marketing agency like MLS, the target keywords are allocated as seen below:
A. Lower Competition & Higher Relevance
Experiential marketing, Media buying, Branding, Higher education marketing
B. Higher Competition & Higher Relevance
Web design, Social Media marketing
C. Lower Competition & Lower Relevance
restaurant marketing, bicycle marketing, satellite website
D. Higher Competition & Lower Relevance
Marketing Automation, App marketing, real estate marketing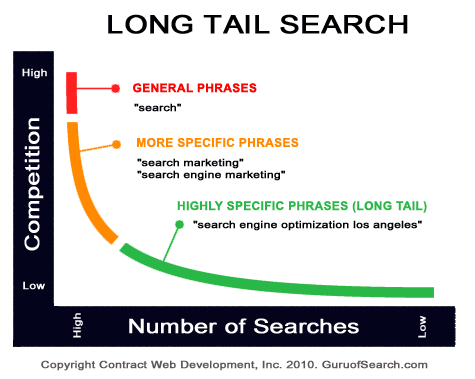 Source: Merchant Protocol
How to research Competition
The number of search results on Google
"Avg. monthly searches" and "Suggested bid" on Google Keyword Advice Tools
Content Quality of competitor's websites on top search results using particular keywords (try to check 5-10 websites)
Backlinks Quality that competitor's domains have through Open site explorer from Moz.com (Advance)
3. List blog topics and set the target keywords for every single post
List blog topics and prioritize them based on information from #2
Make sure to set up small target Keywords for every post
Some examples of small target keywords would be: Experiential Marketing agency Toronto, Marketing to University students, Web design for real estate
Compare to vague, overarching keywords like Marketing agency. The small keywords are more focused to what an audience wants
Pros
Higher Conversion Rate (because your content is more likely to match what they want)
Easier to get a high ranking (because of lower competition)
Cons
Lower search Volumes
Taking time to find small keywords
Note: Don't Aim for keywords that have zero search volume on Google Adwords, 10 search volumes per month at least. The reasons are below:
a. Zero monthly searches most likely translates as "no need" unless you write about topics nobody has ever heard of, such as if you were writing about SEO in 1995
b. You may get organic traffic from unexpected keywords if you aim for keywords that have 10 search volumes per month
i. Target small Keywords: Marketing to university students
ii. Examples of Unexpected Keywords: Inbound Marketing to university student, Marketing to students ideas
Why focus on small keywords?
Even if you are aiming for big, overarching keywords, you still wouldn't show up on the first page at the blog's outset due to lack of reputation with Google (unless your site's domain already has a strong SEO presence)
Based on experience, when your blog is doing its job, roughly 70 to 90 per cent of all traffic from an organic search are from small & unexpected keywords.
4. Keep these in mind while writing
Be deep: specific and thoughtful
Be comprehensive: add both pros and cons or advantage and disadvantage
Be unique: inject opinion, point of view, approach are different from other posts
Be reliable: cite secondary sources, use celebrity without being cheesy
Don't create similar blog posts more than once because Google may get your blog to rank lower.
Understanding Pain points – think about the target you're speaking to and tailor it to their problems.
Don't blog on your own. You may be in charge of inbound marketing or digital marketing. However, I'm sure that there's someone who has in-depth enough knowledge about your business to share in your office, whether that's sales, directing, or developing. They absolutely have great ideas for blog content to attract your prospects. For that reason, work together.
5. Check performance of keywords and tweak them
Keep track of the rankings of each post using small keywords (established in our third point)
Keep an eye on organic traffic through an analysis tool (ie. Google analytics) or Google Search console.
Improve, improve, improve every post based on your specific and small keywords until your SEO presence gets strong enough to aim for middle keywords
Once your blog and website have a strong SEO presence, whatever you post ranks well
Even though lots of companies know blogging is a strong inbound marketing tool, most of them give up or stop focusing on it. Keep blogging!
(Visited 228 times, 1 visits today)
Want to learn more?
If you want to learn more about specific key elements of an effective marketing plan, read our 50+ page booklet on How to Write A Strategic Marketing Plan That Yields ROI – complete with explanations
(Visited 414 times, 1 visits today)